Today we'll visit one of the most popular tourist destinations in Almaty – Kok-Zhailau (or Кок-Жайляу in Russian).
Make yourself comfortable, grab some popcorn and prepare to see a lot of photos and a new YouTube video!
Kok-Zhailau 4K video
What is Kok-Zhailau
Kok-Zhailau is a plateau in the Ile-Alatau National Park. It's located between the and Small Almaty gorges.
Kok-Zhailau is only 10km away from the city of Almaty, Kazakhstan. In the past, this place served as a pasture for animals but now it's a favourite hiking destination among Almaty residents and city visitors.
How to get to Kok-Zhailau
It's easy, there're multiple ways you can get to the start of the route.
By bus. It's the easiest and cheapest way unless you're not planning to go there at night (buses work till late evening).
Take the 12th route at any bus stop on Dostyk Ave. (former Lenin Ave.). The ticket costs 80 KZT (20 cents) or 150 Tenge (~40 cents) if you don't have a bus card.
Take off at the Prosveshenets bus stop ("Просвещенец").
By car. Drive towards Medeu and Shymbulak Ski resort all the way to the Prosveshenets bus stop. Then take a sharp right turn and drive uphill for another 1-2 minutes and you'll see a parking space there. You can park your car at the very end of the asphalt road.
Make sure you fill your water tanks from the Akbulak spring at the bus stop! There's cool, refreshing water.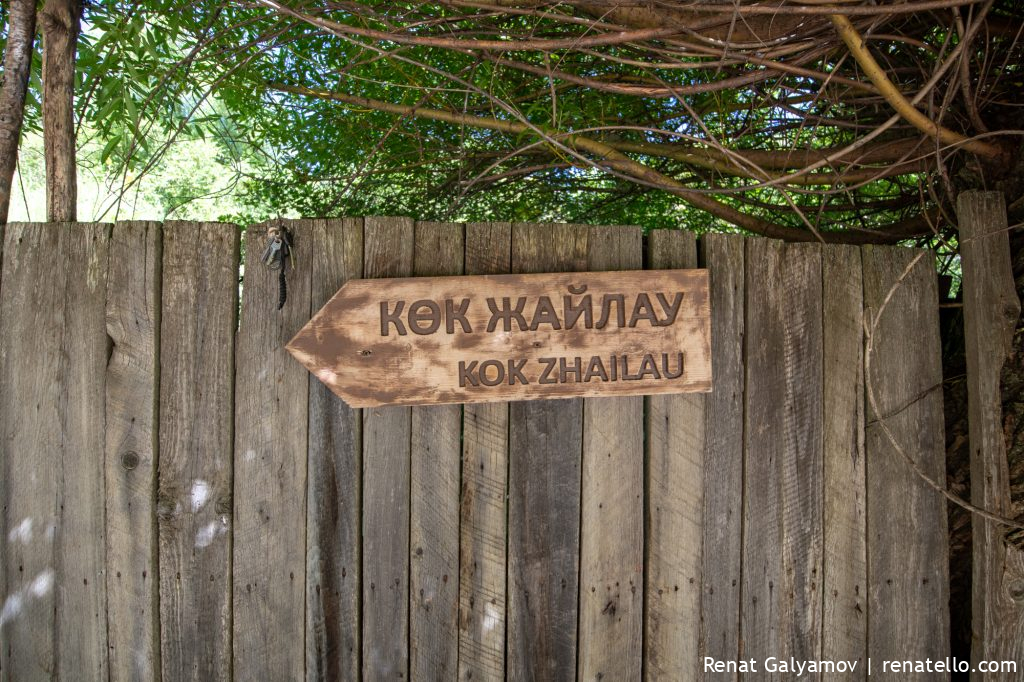 Next, we follow this sign and go uphill.
Kok-Zhailau photos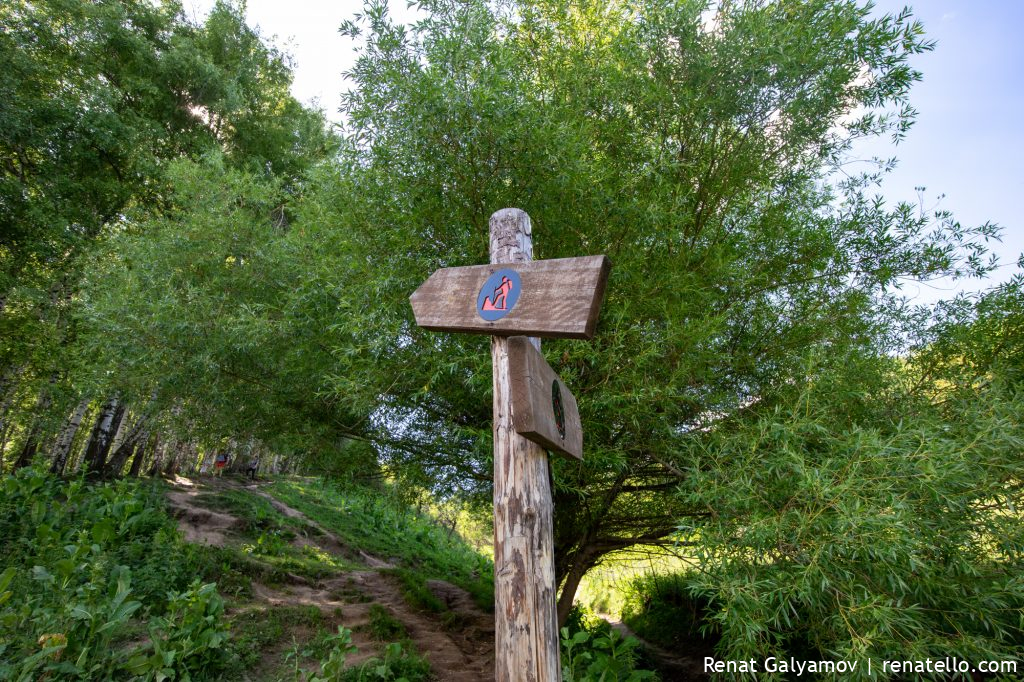 After you pass the village you'll see another sign with two directions. You can turn left and hike through the birch grove (it's for more experienced hikers) or turn right for a less steep path. Both routes take you to the same place.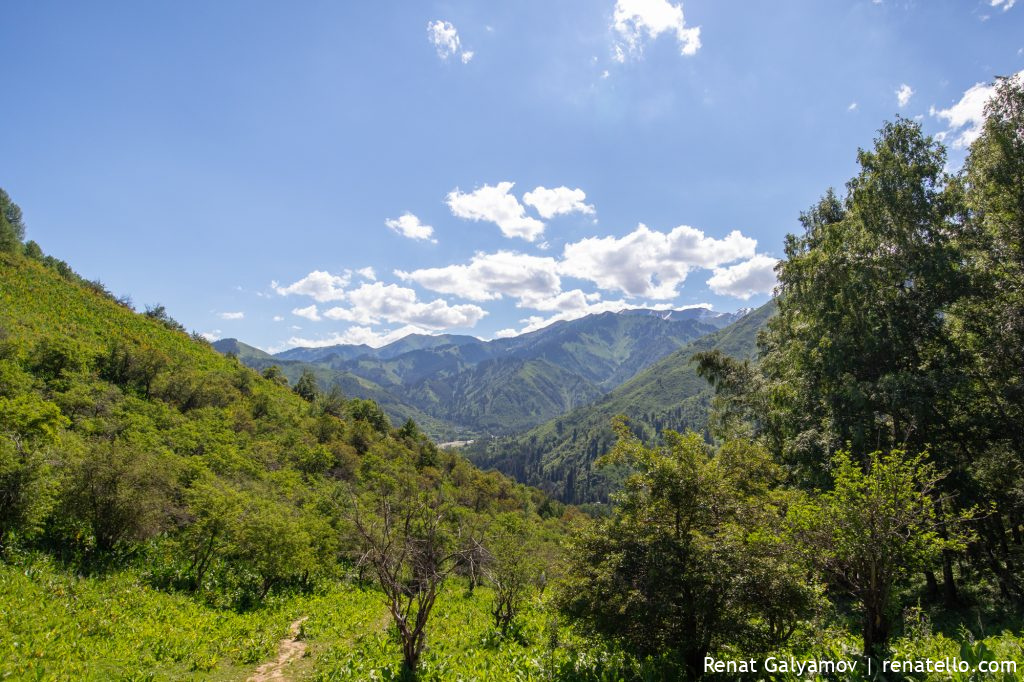 We turned right, walked uphill for about 200 meters and got this gorgeous view. You can even see the main road.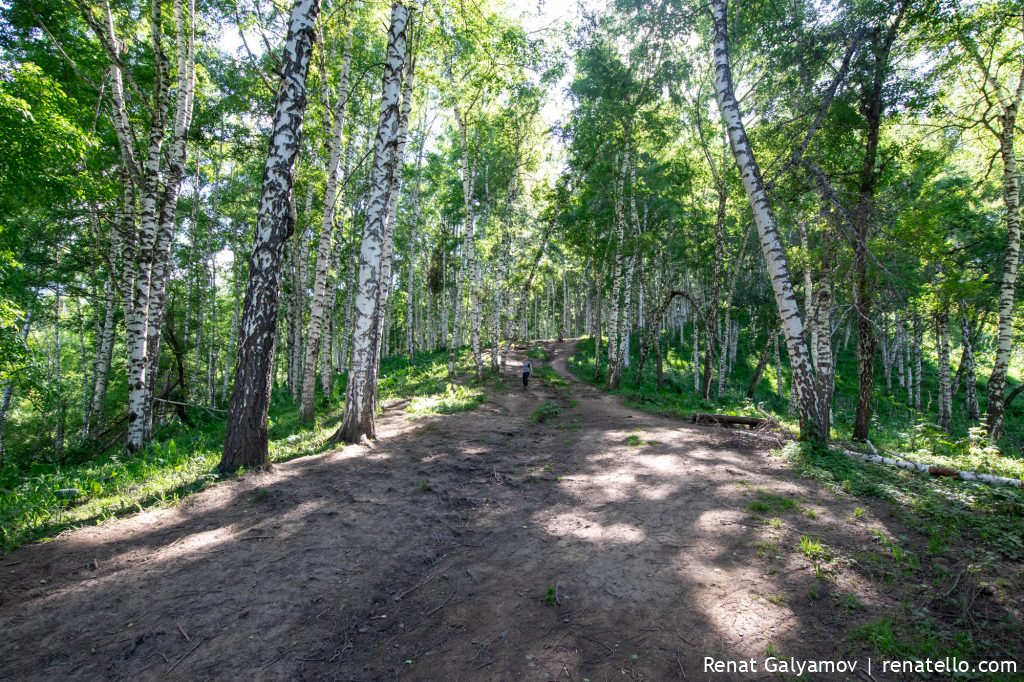 This is a birch grove, we walked through it on our way back.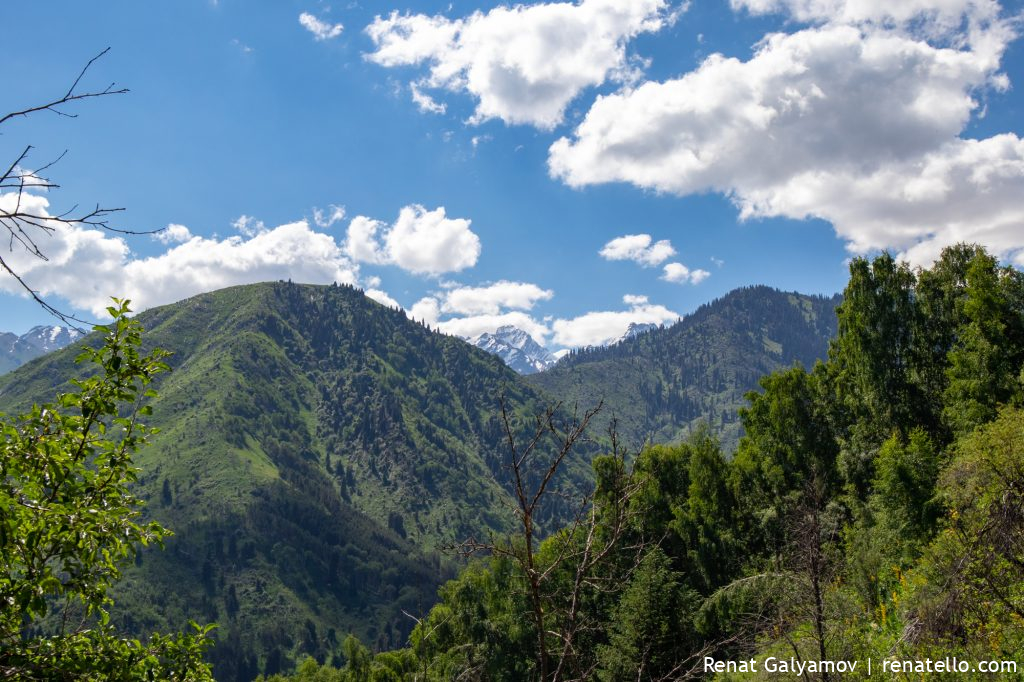 We quickly reached the ridge, a place where both routes intersect and where the main ascent begins.
To the right of the ridge, you can the Komsomol peak (now called Nursultan peak) with an altitude of 4376m (see the middle of the photo).
Inhabitants of Kok-Zhaulau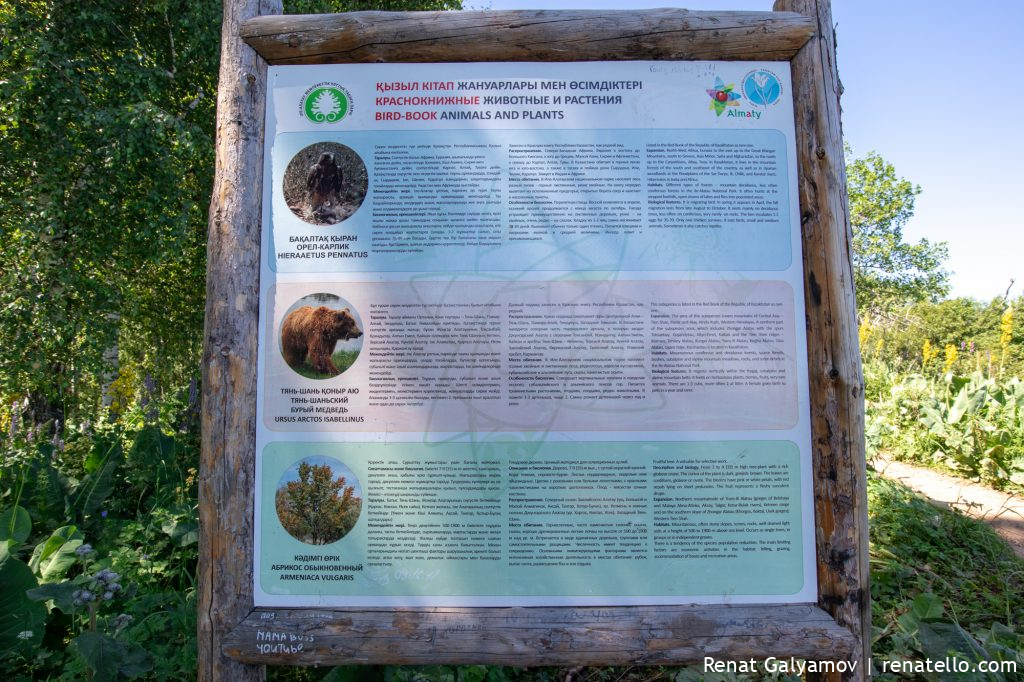 On the way to Kok-Zhailau, you'll find such stands with some information about the flora and fauna of the area.
On the territory of Kok-Zhailau, there are many animals, birds, insects and plants.
Here's a small list of animals living here:
– deer,
– brown bear,
– groundhog,
– snow leopard, also known as irbis,
– porcupine,
– manul,
– wild boar and many others.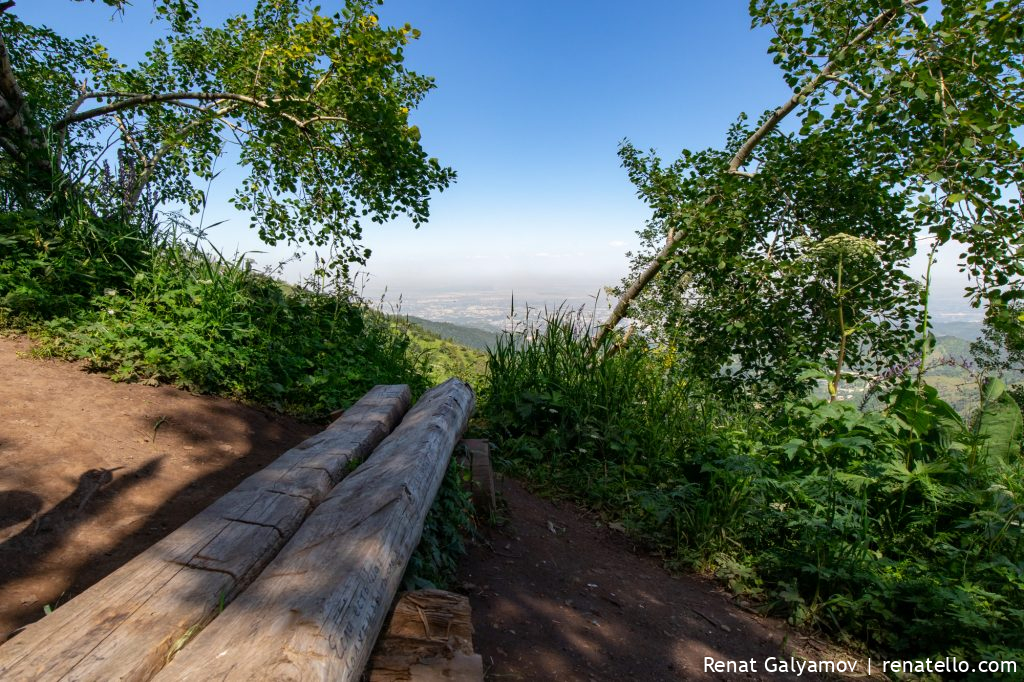 There are also benches with stunning views of the city of Almaty.
2011 Hurricane on Kok-Zhailau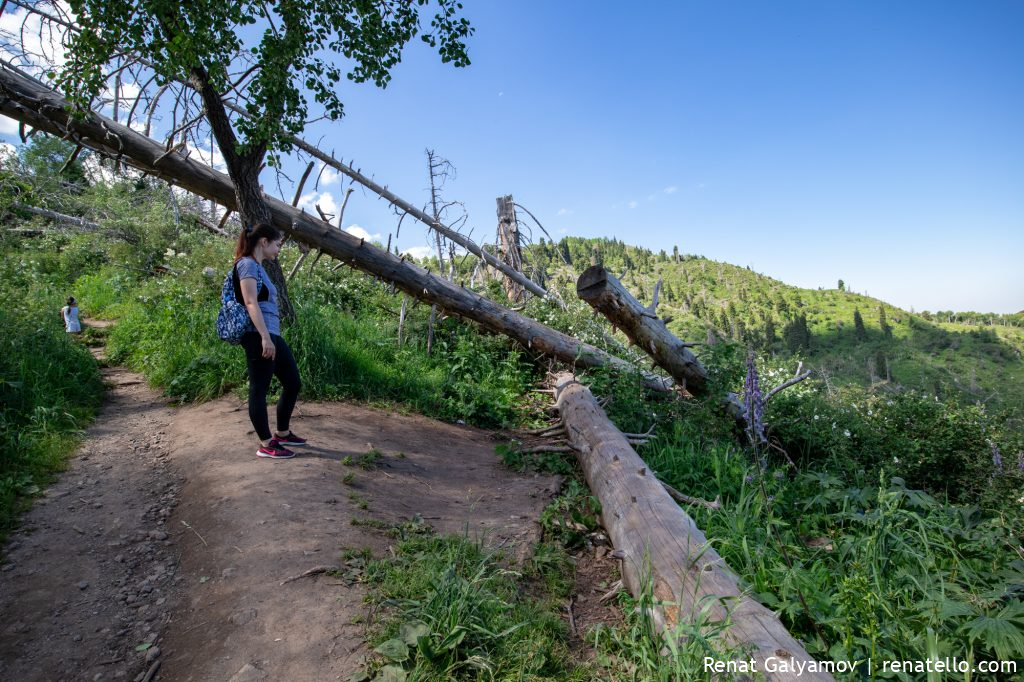 In 2011, a severe hurricane passed in Almaty. Over 90,000 trees were damaged, many of which were uprooted.
Most of the trees continue to lie, although large amounts of budget funds were allocated for their cleaning.
Popular paths were cleared of dry fallen trees, but on the slopes and along the paths they continue to lie and create a fire hazard situation.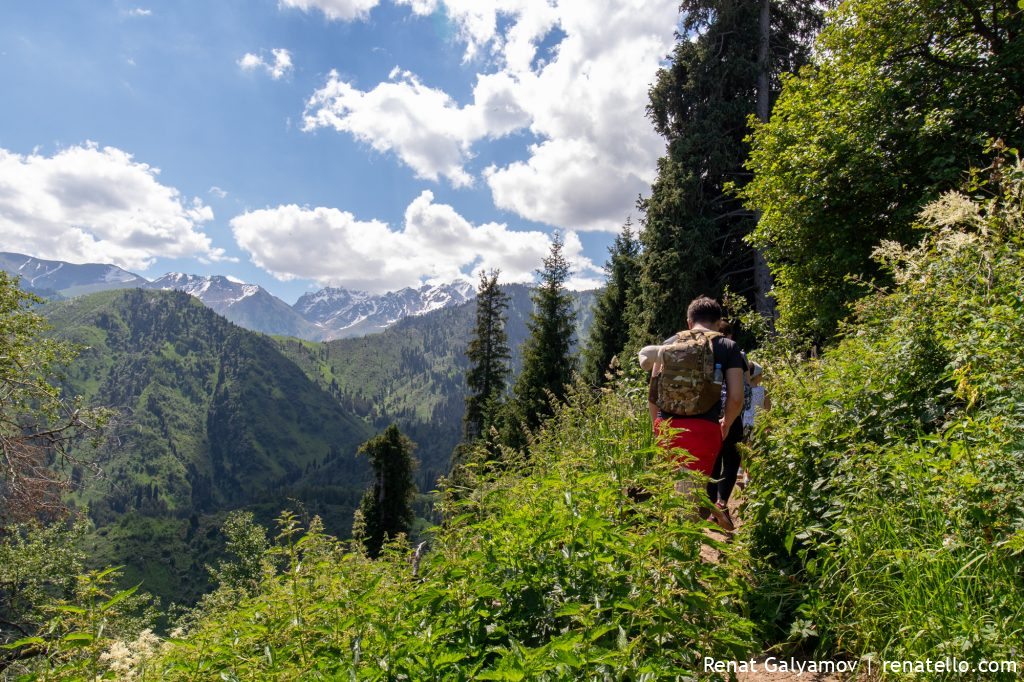 Keep walking.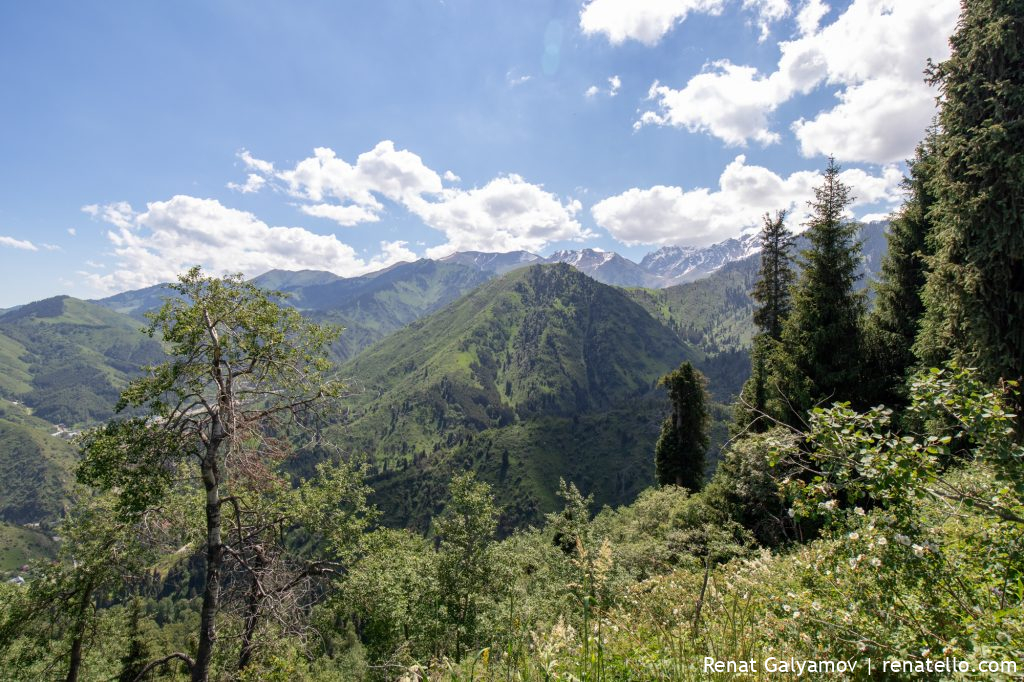 You can see Shymbulak Ski Resort, which is located in the Small Almaty gorge.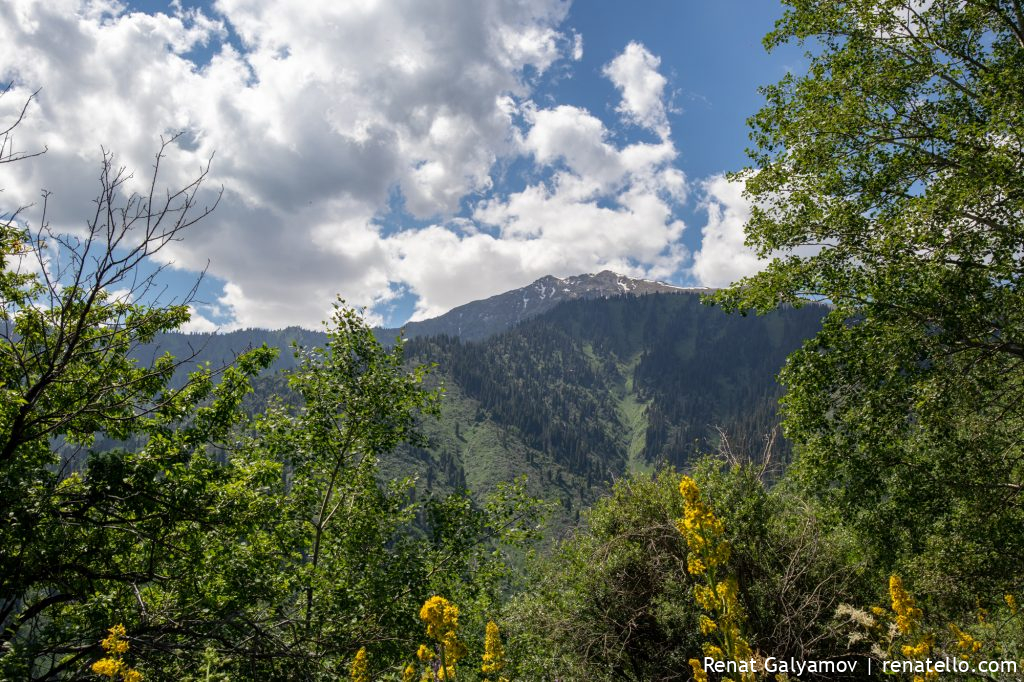 Above is the photo of Kumbel peak (3200m). In July-August, there's usually no snow on the summit.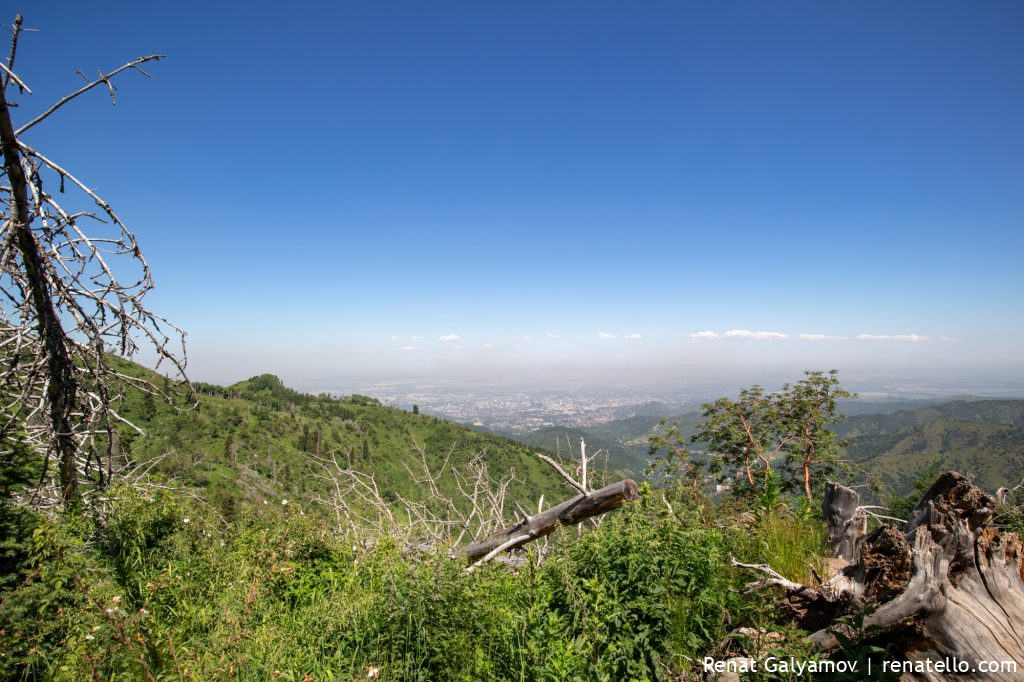 View of the city of Almaty. You can see some smog, but compared to the winder period – this is nothing.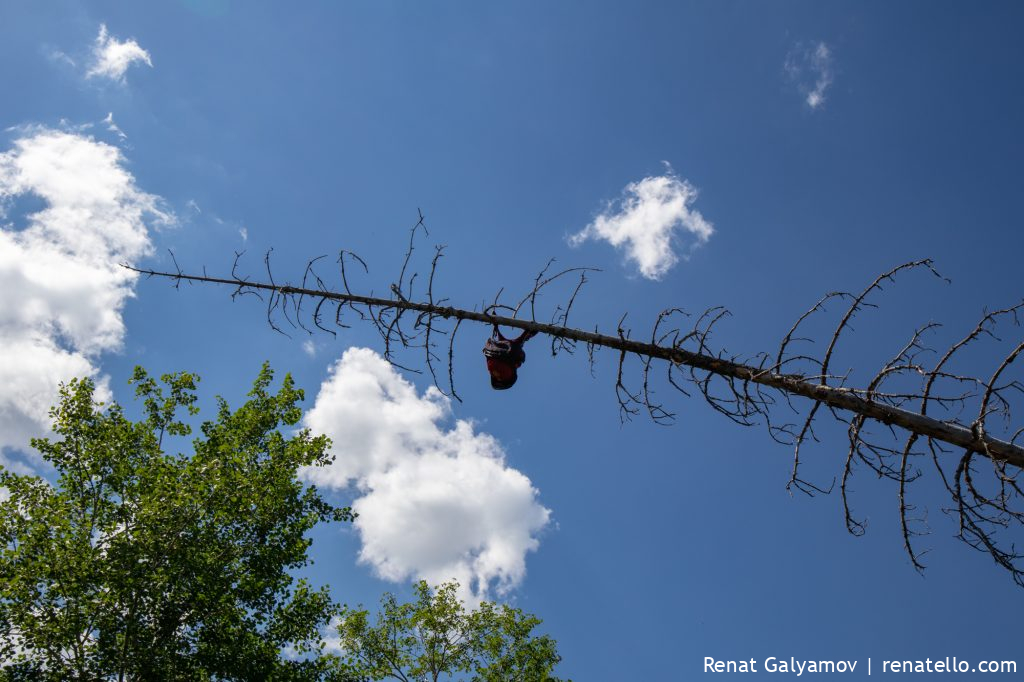 Someone left a backpack in the mountains 🙂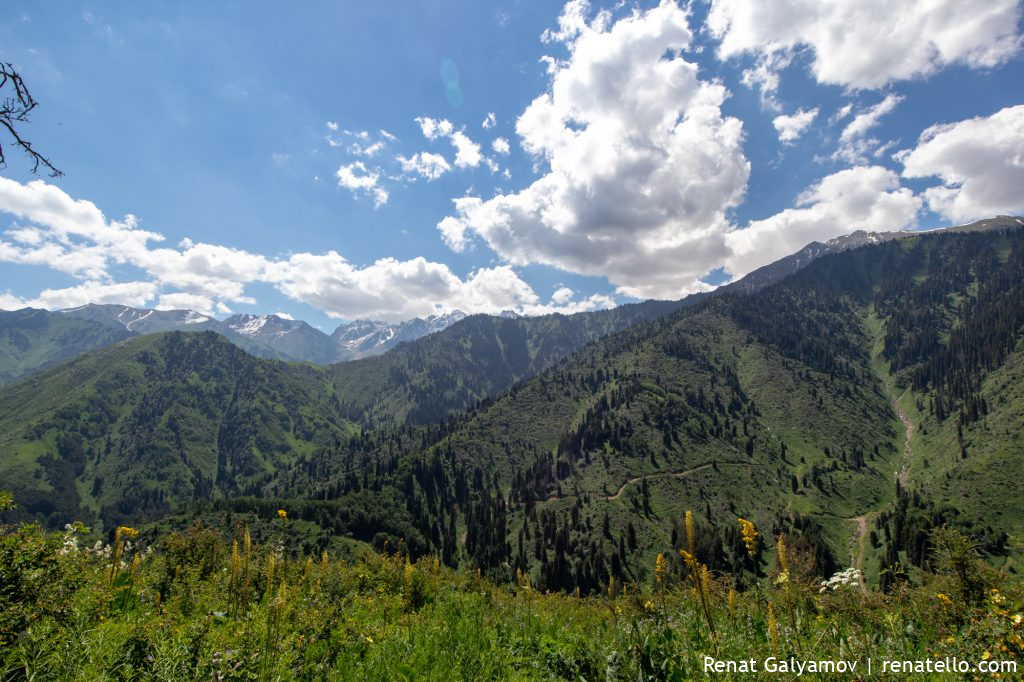 On the photo above you can see another path, which goes at the bottom of the gorge. Do not take it as it goes nowhere, you'll run into a steep slope and will need to walk down.
That's why it's important to follow the signs at the start of the hike.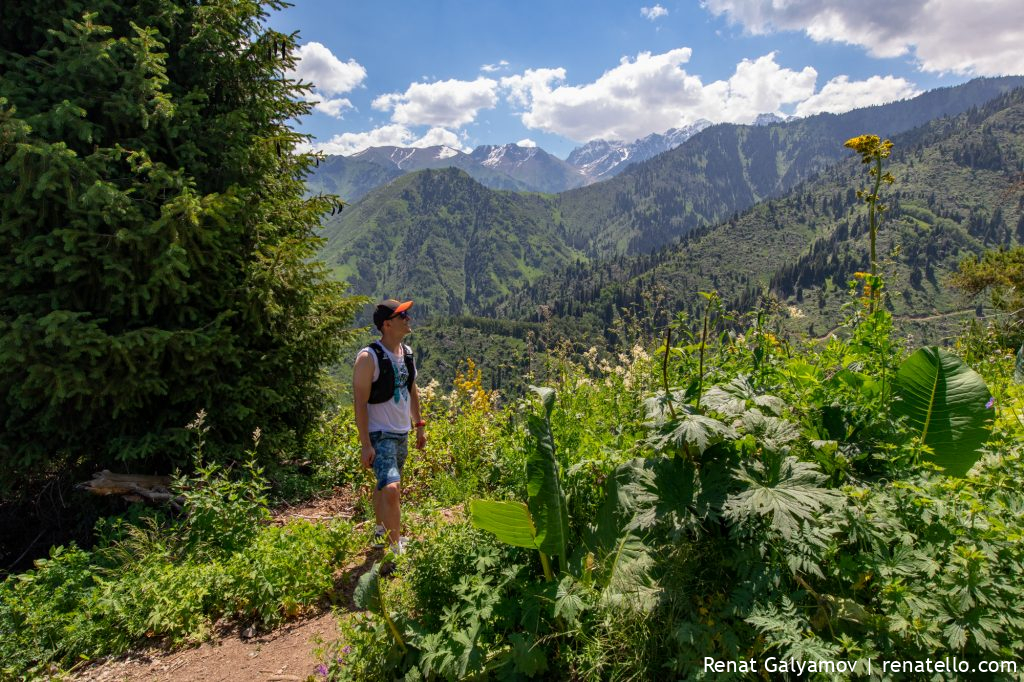 A moment of posing.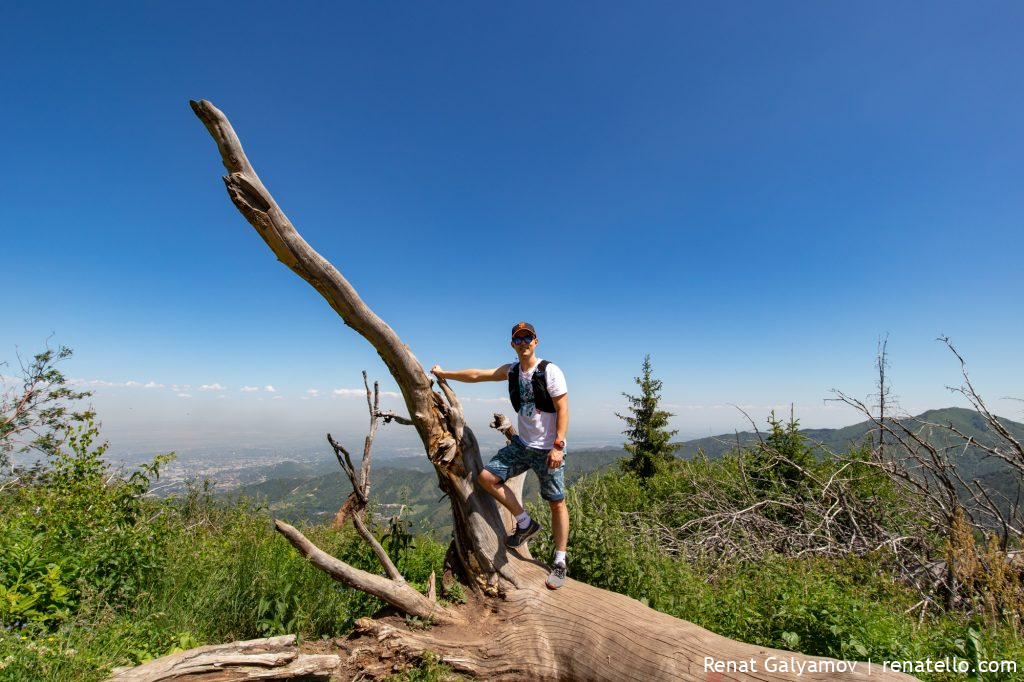 How can one walk past this view?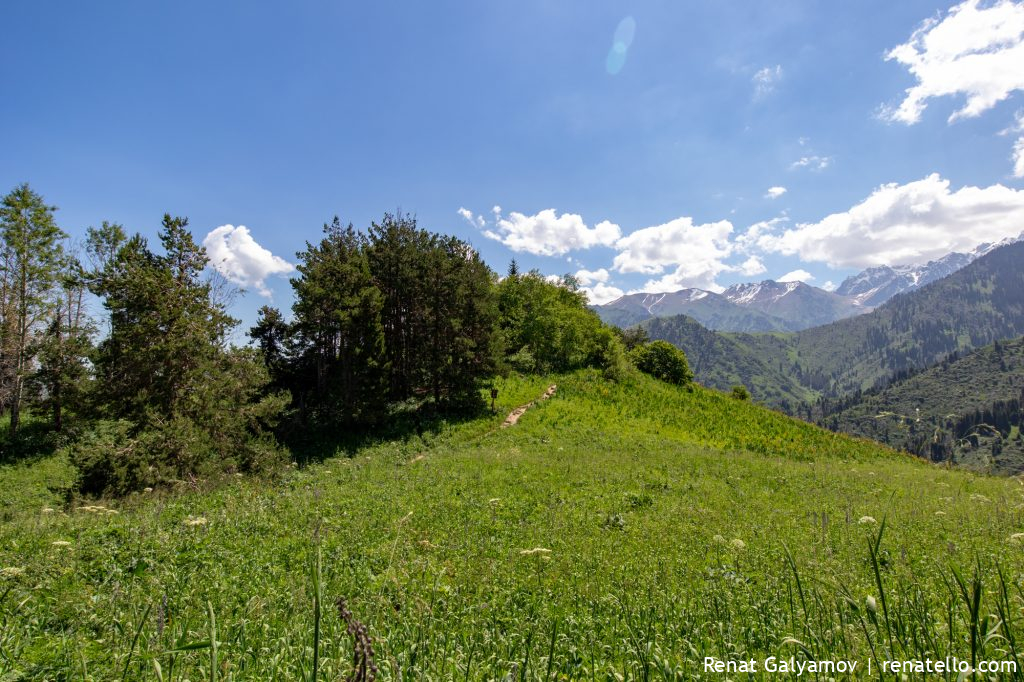 The first part of the climb is quite steep, but once you reach the plateau you can slow down and enjoy the easy path.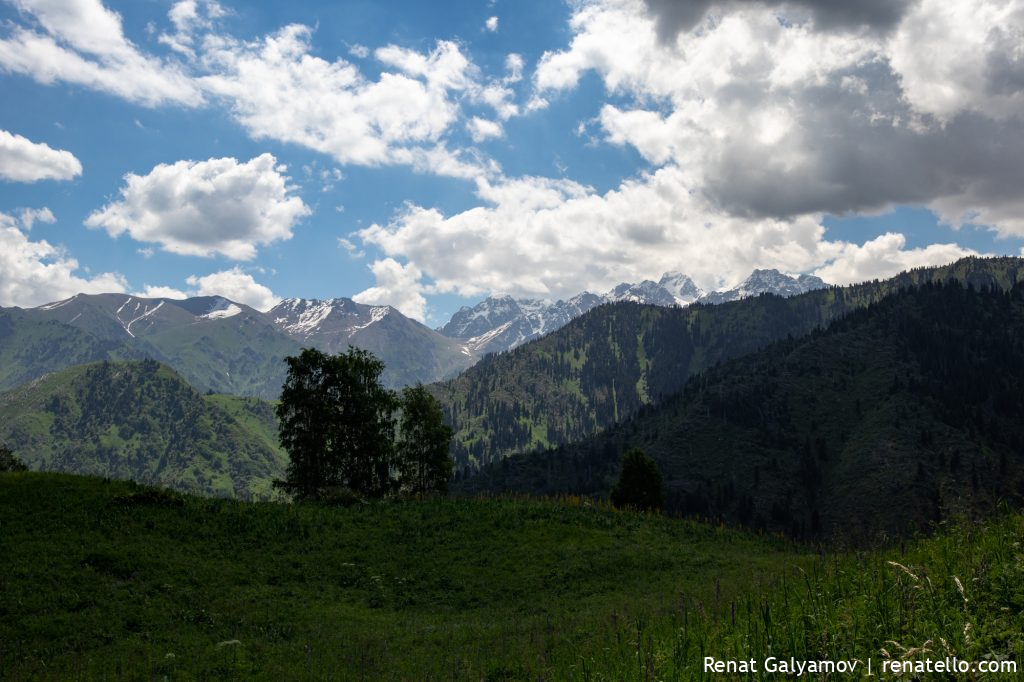 Mountains look gloomy when the sun hides behind the clouds.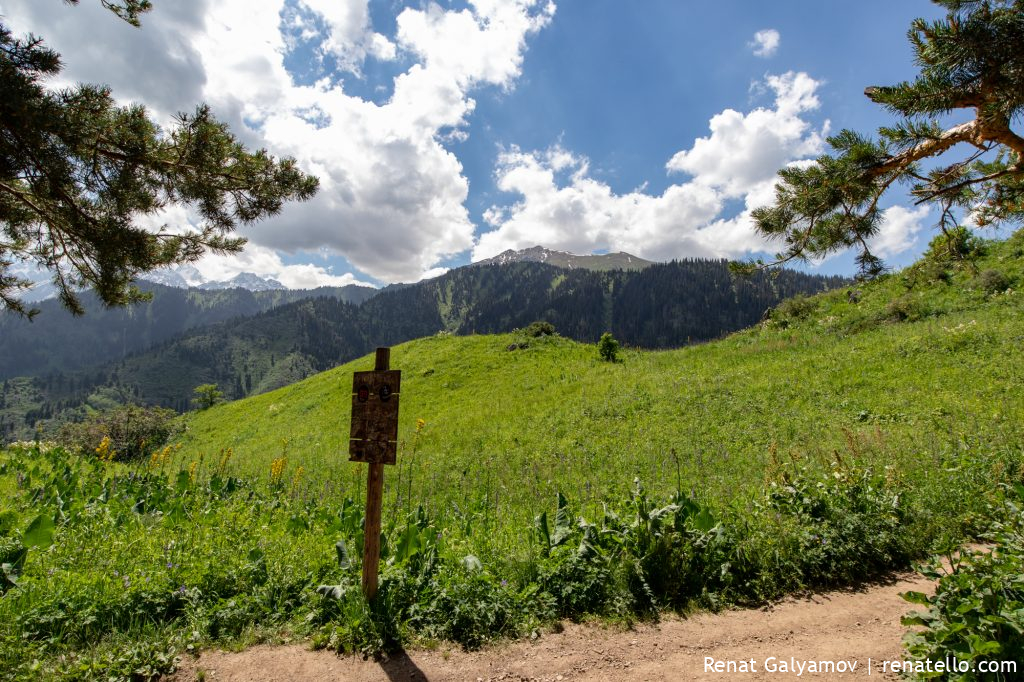 Found this useless sign…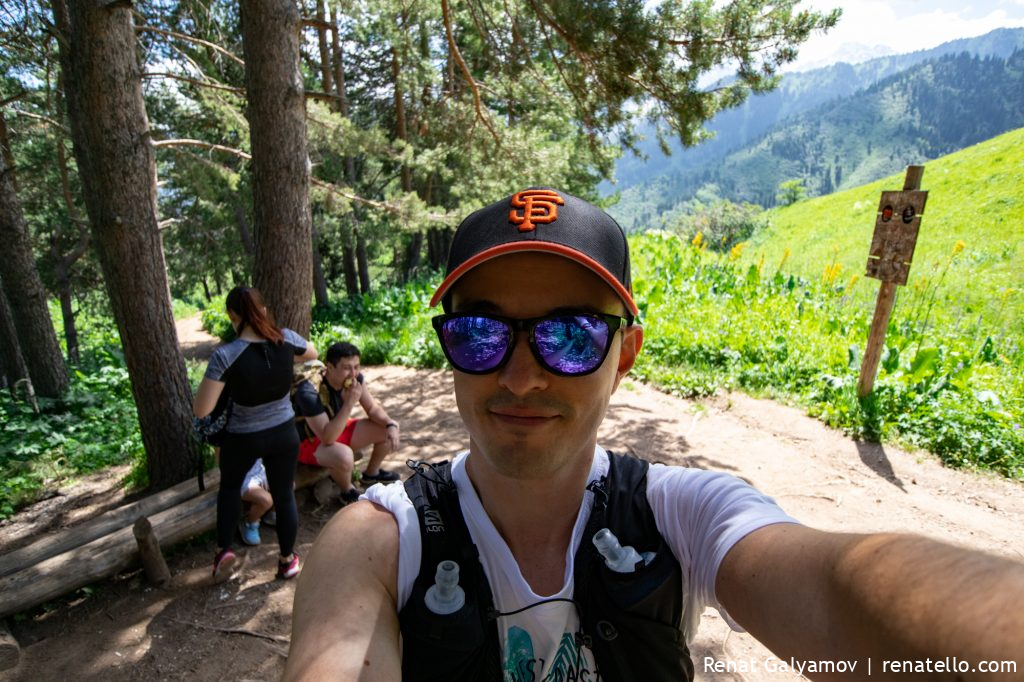 and a nice place for a quick stop next to it.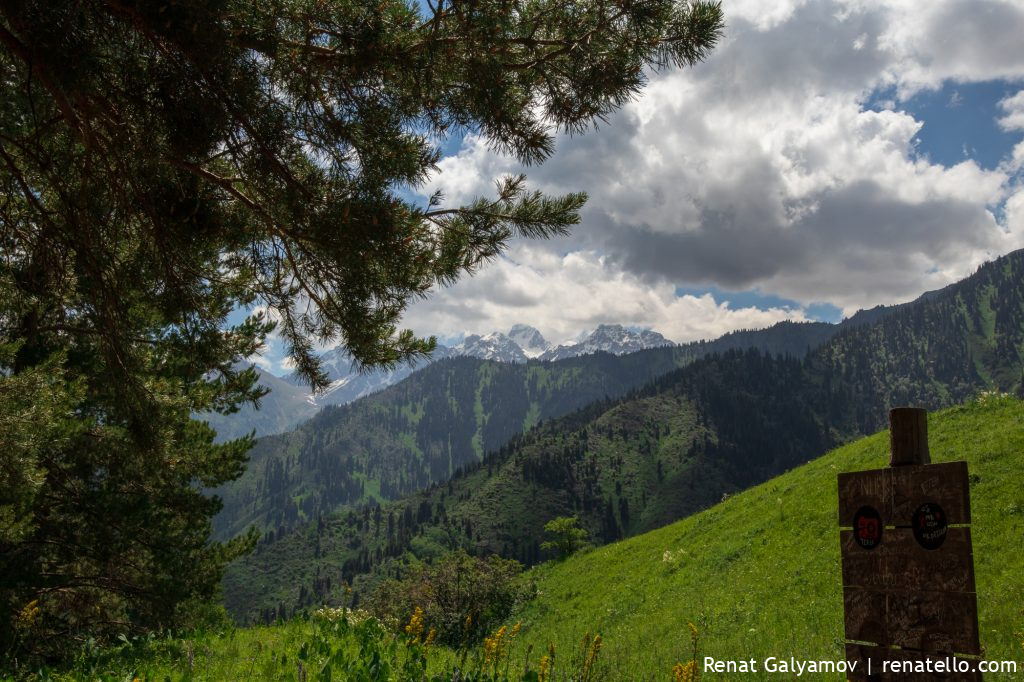 My friend Ruslan and I climbed Komsomok peak a couple of years ago.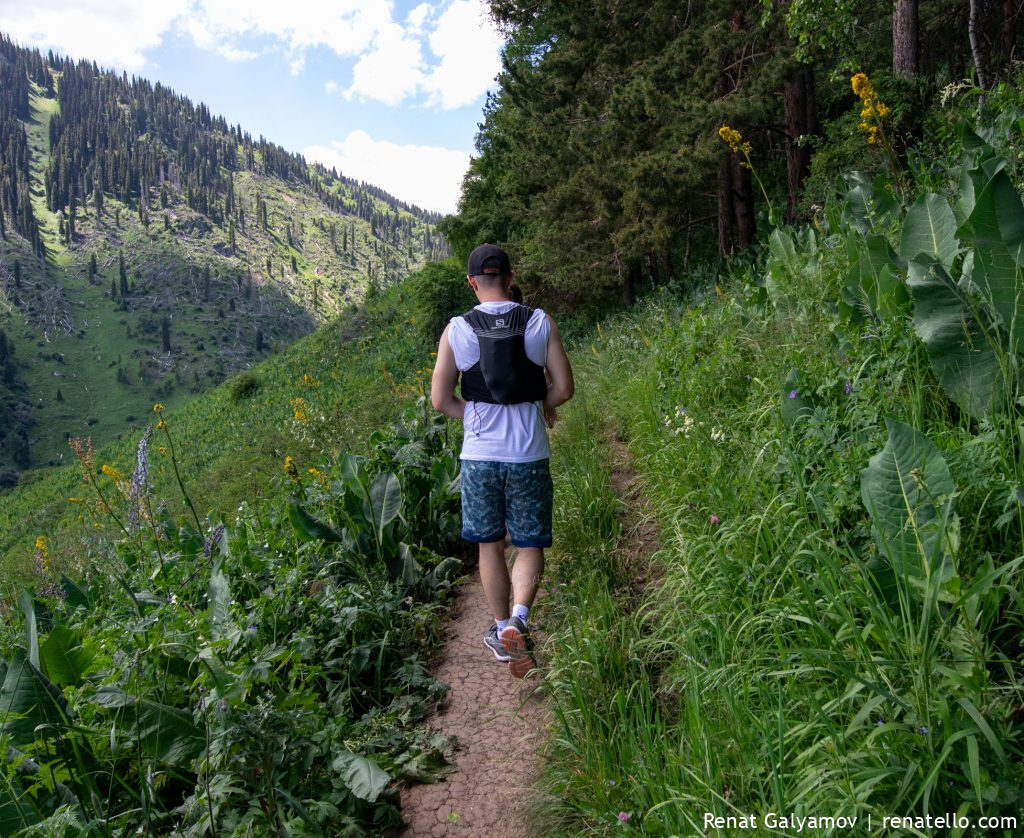 A pleasant trail where you can come across some small animals such as mice and black leeches (not sure if it's an animal though.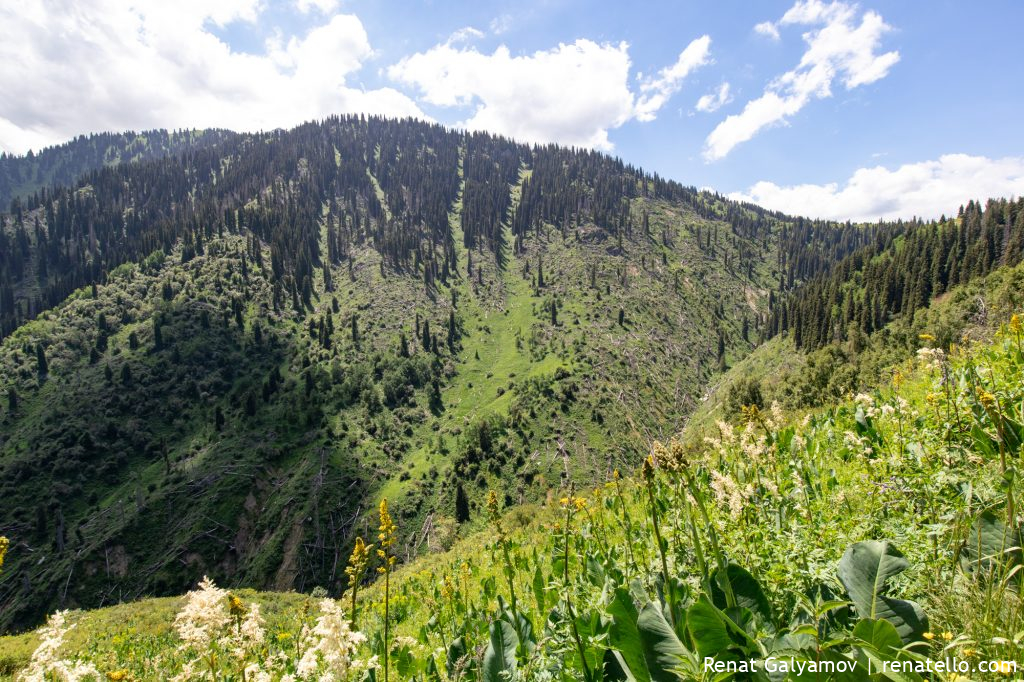 Just look at how many trees and still lying on the slopes. Most of those trees are 100+ years old!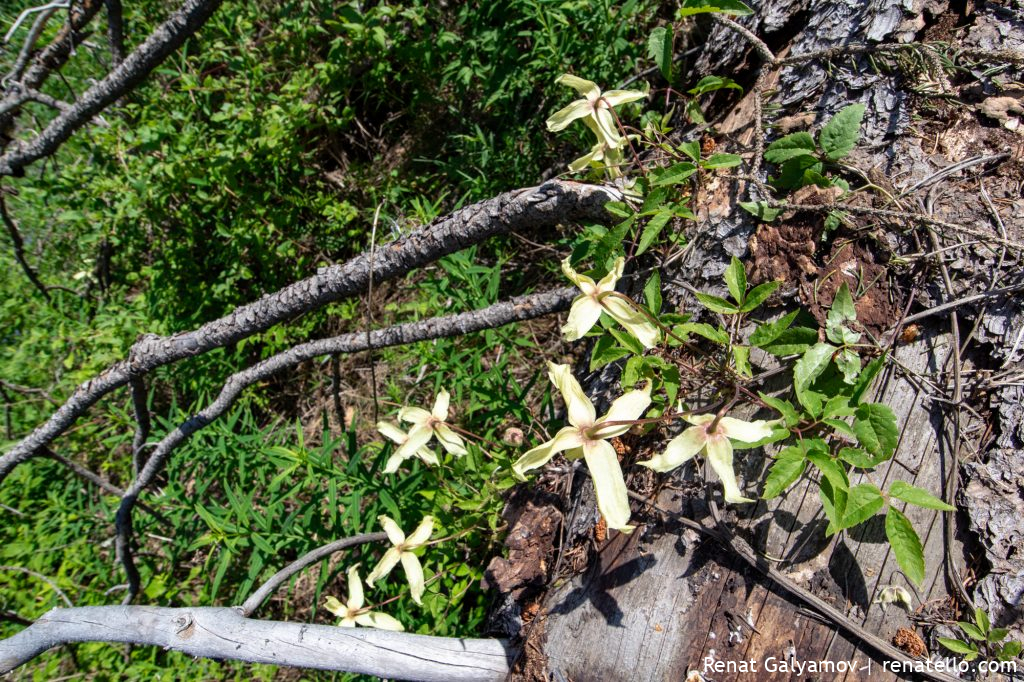 We found this beautiful yellow flowers living on the dry tree. Do you know how they're called?
Beautiful view over the sky.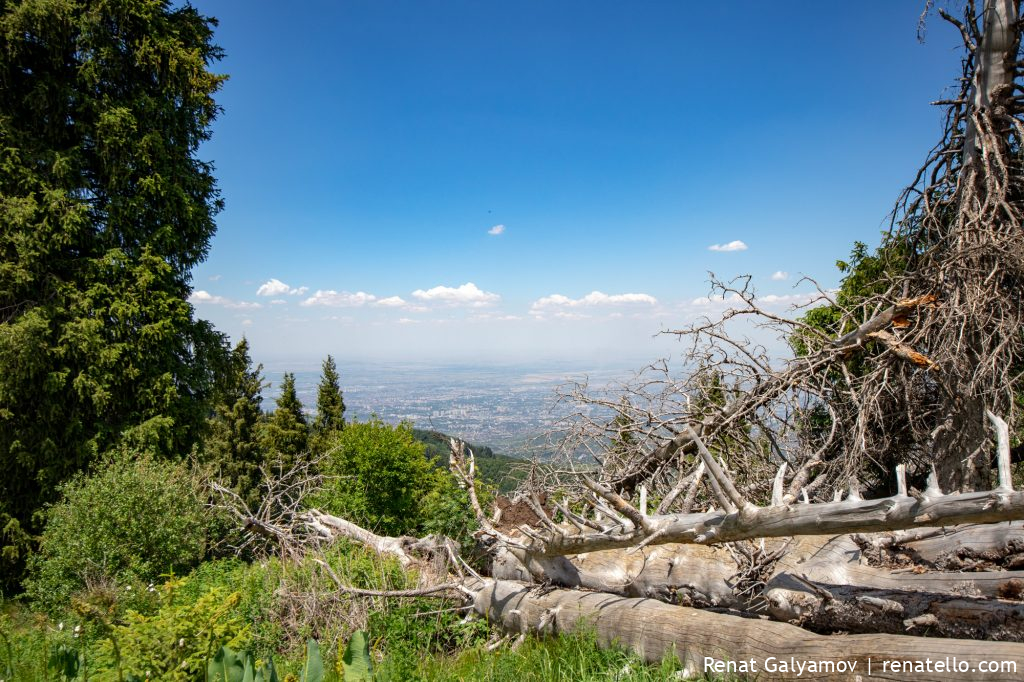 Almaty city view.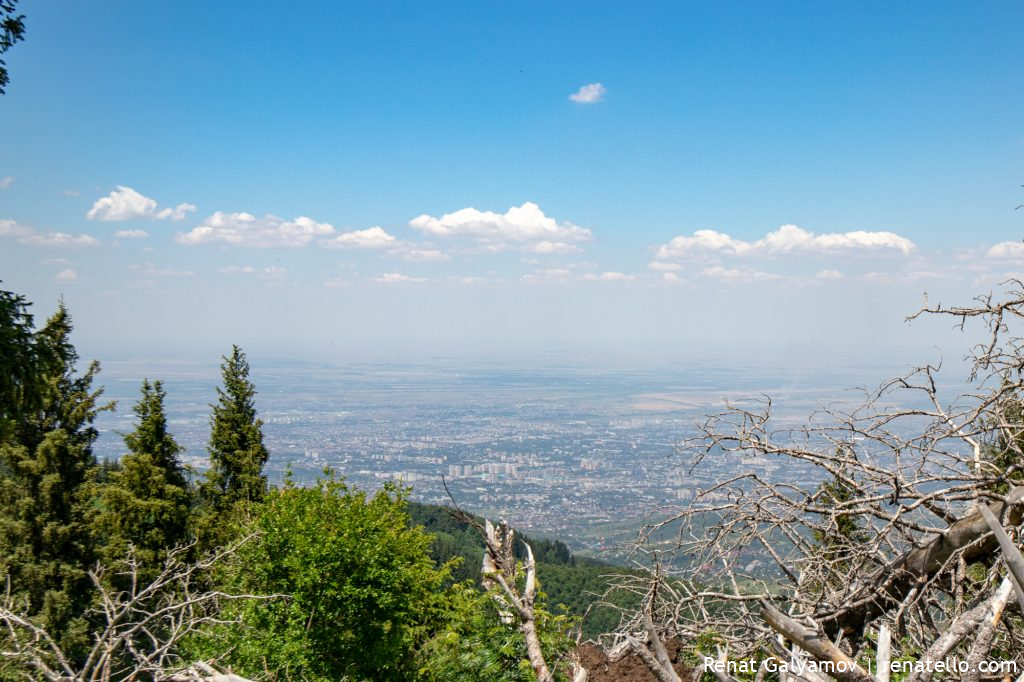 You can even find your apartment from the top of the hill.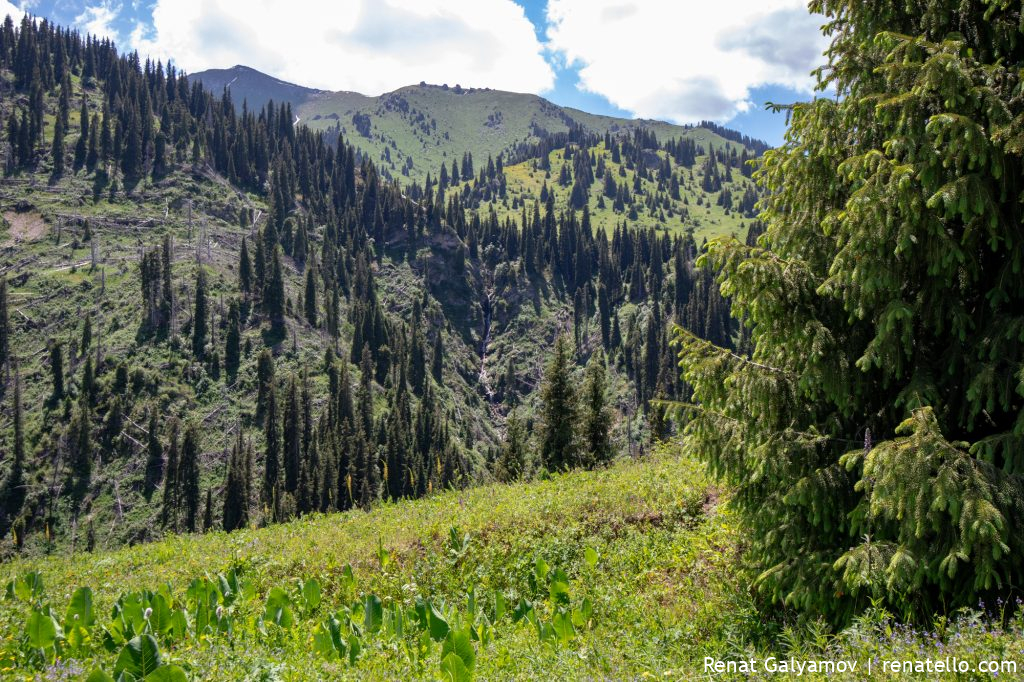 This is the waterfall that we'll be walking later.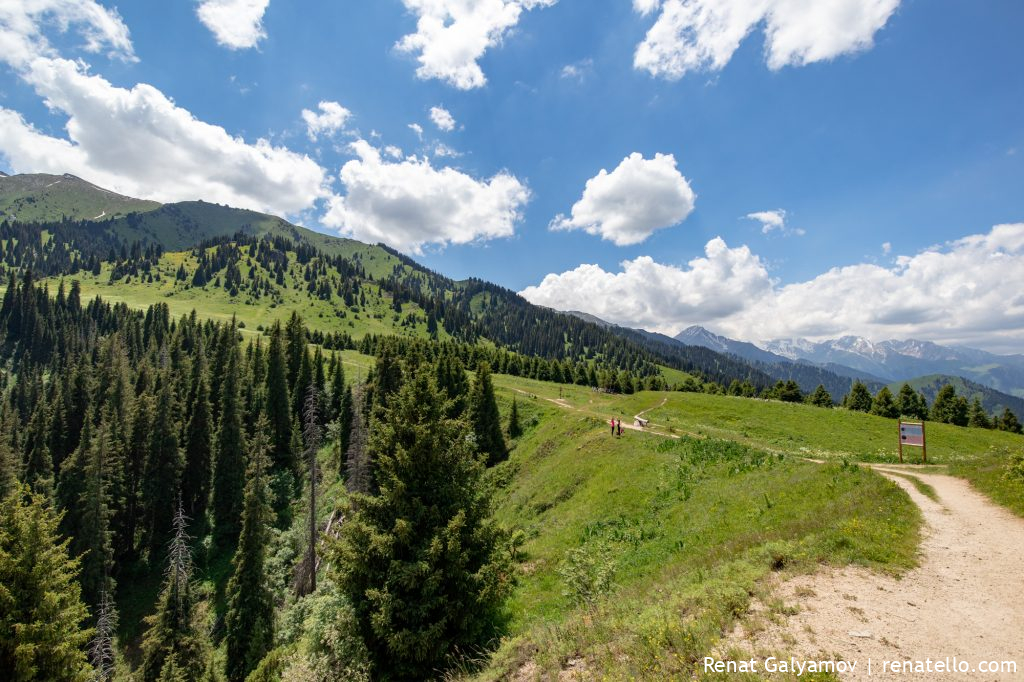 And this is Kok-Zhailau or "a sky-blue summer pasture" translated from Kazakh.
Kok-Zhailau is once of the favourite places of Almaty residents and guests. We met a lot of people on our way. There were musicians, sky runners, tourists, families and students.
On the pasture itself children were playing football.
Another information stand with a description of plants and animals living in the Ile-Alatau National Natural Park.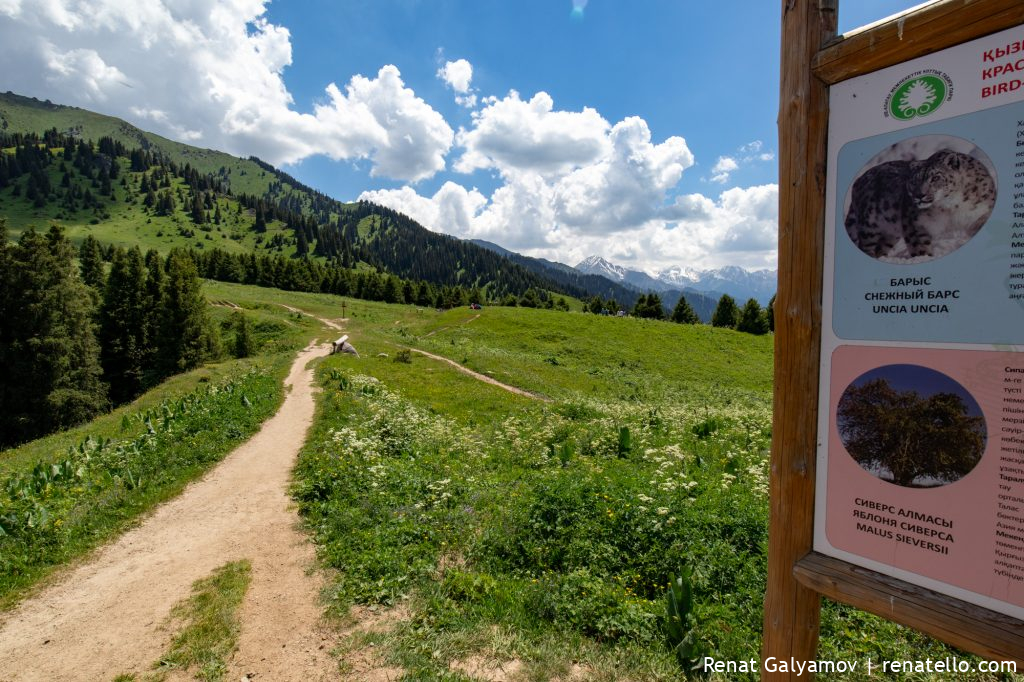 The trail to the waterfall and to Kumbel peak.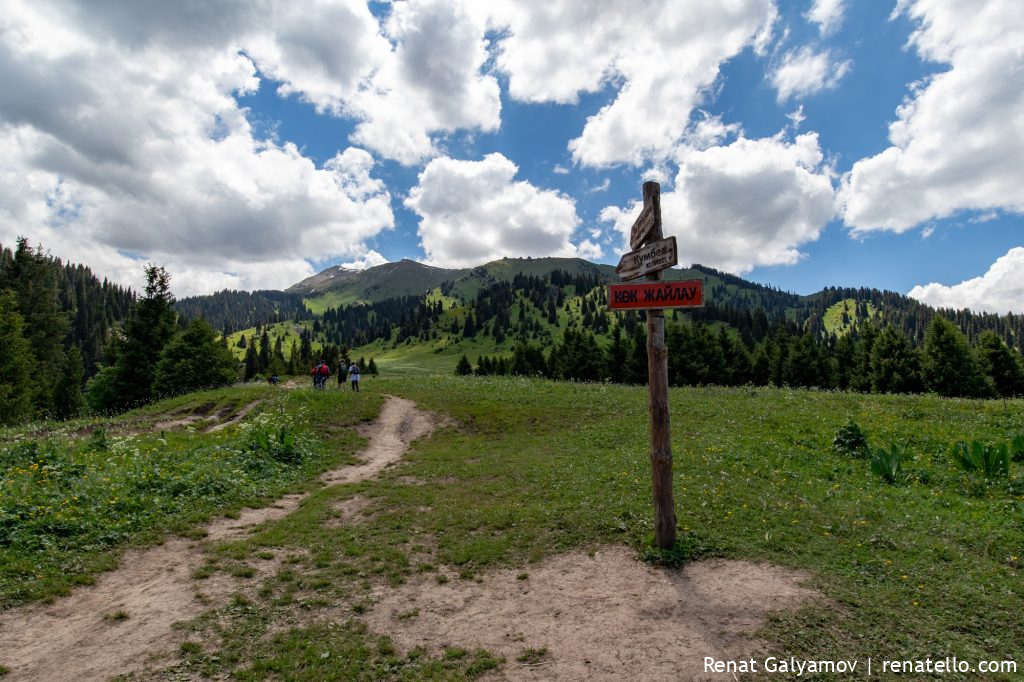 And also to "Three Brothers" of Kumbel – it's just three rocks near the top of Kumbel (see the photo above).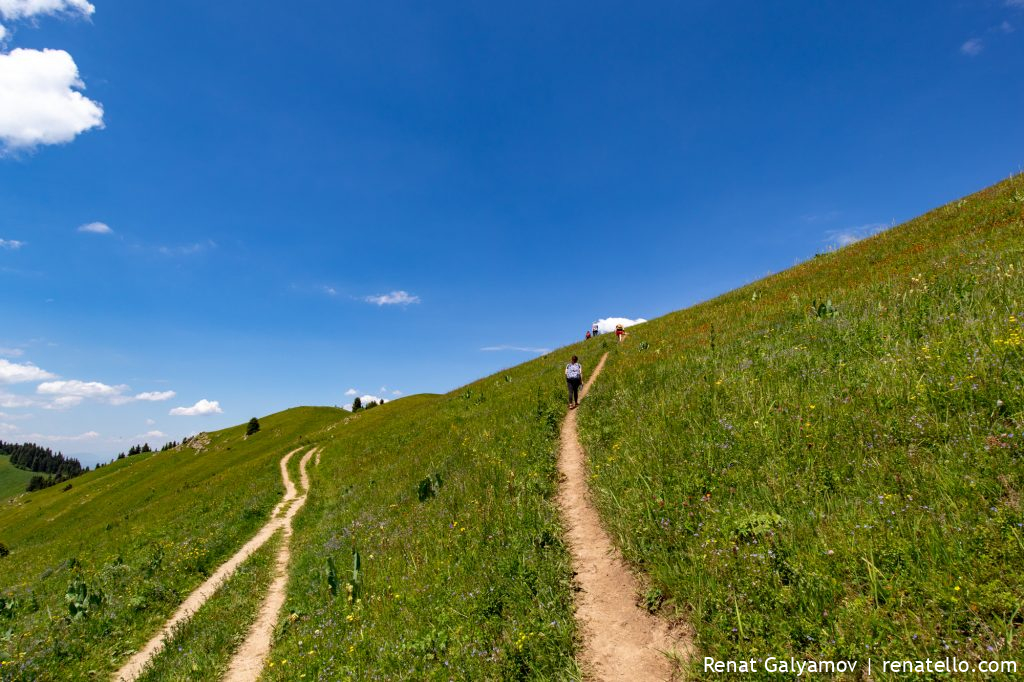 But first, we turned in the opposite direction and climbed the hill to have a long-awaited lunch.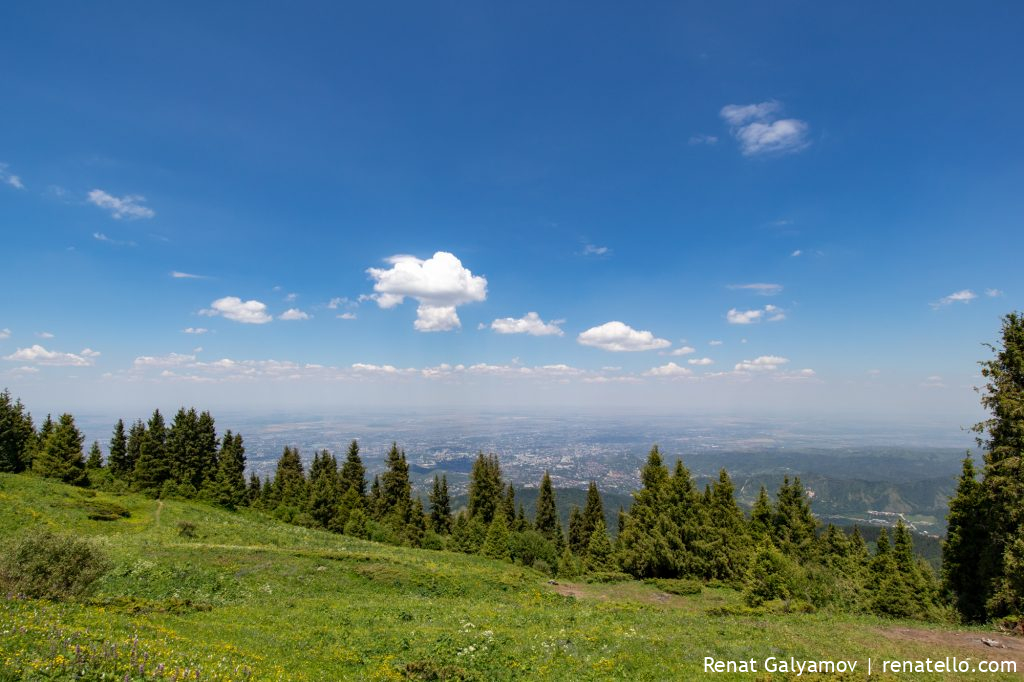 Almaty city at a glance. View from Kok-Zhailau.
Cloud in the form of a nuclear explosion.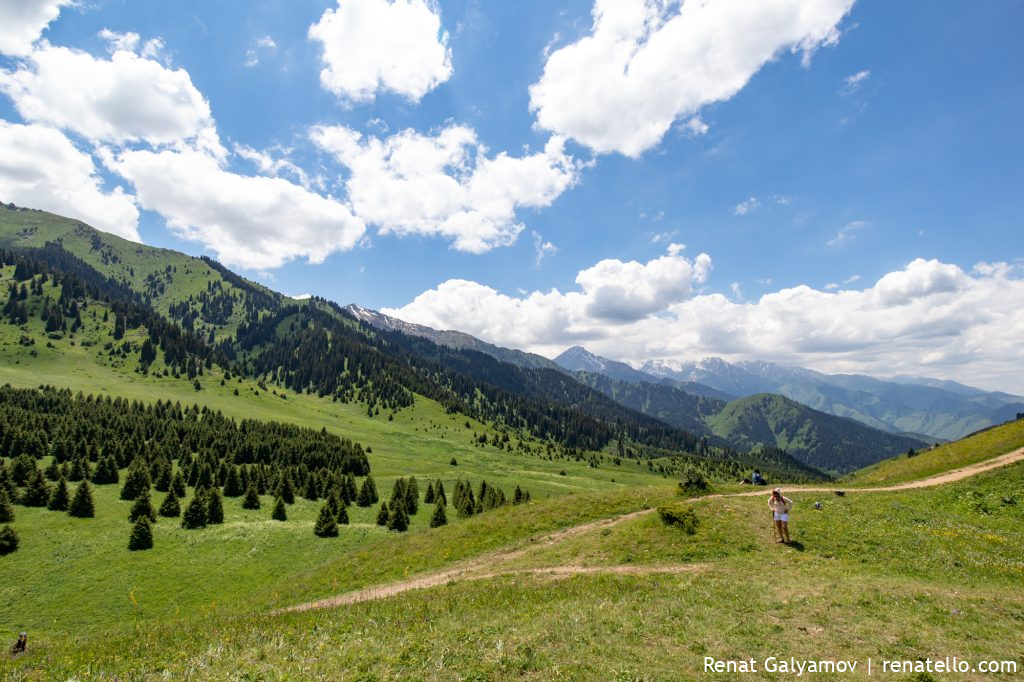 Kok-Zhailau is located between to gorges – the Big Almaty (on the photo above) and the Small Almaty.
You can go from one gorge to another through Kok-Zhailau.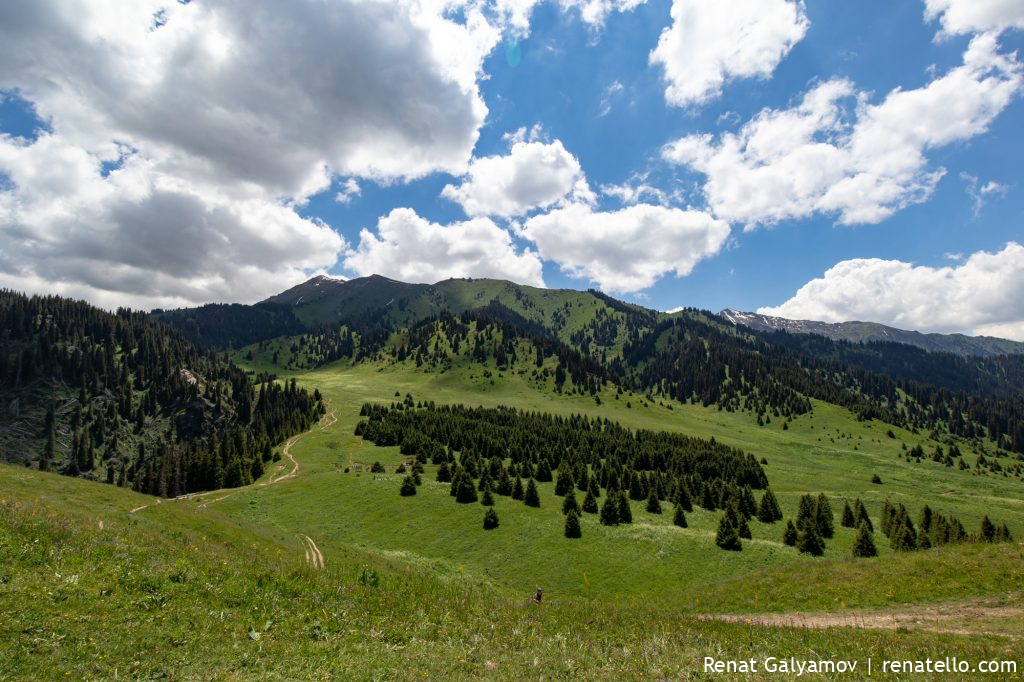 Panorama of Kok-Zhailau.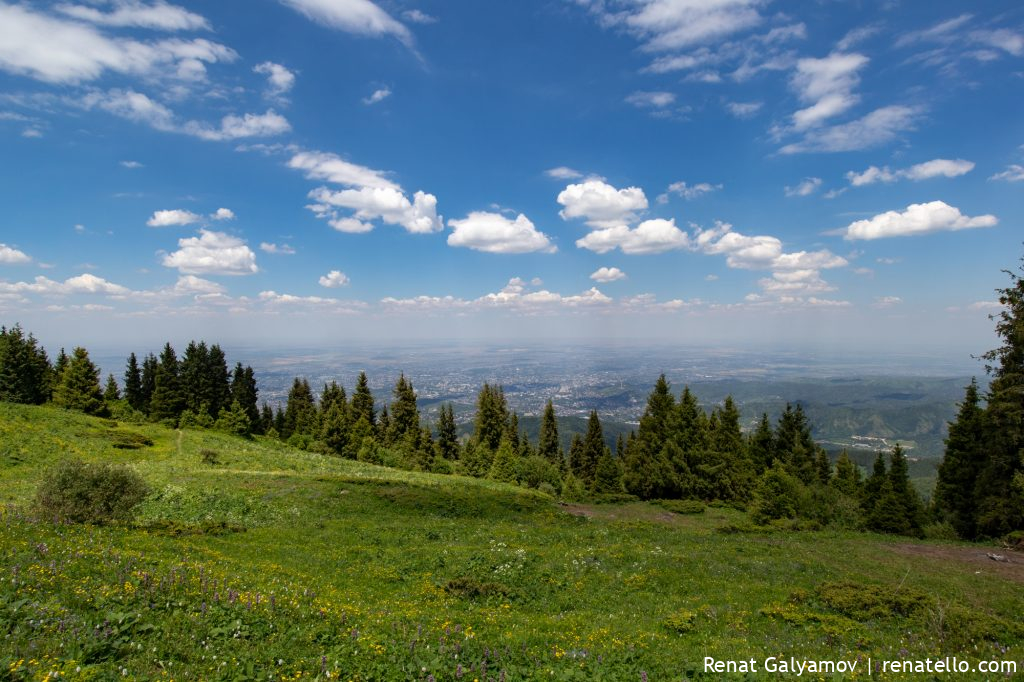 Panorama of Almaty city.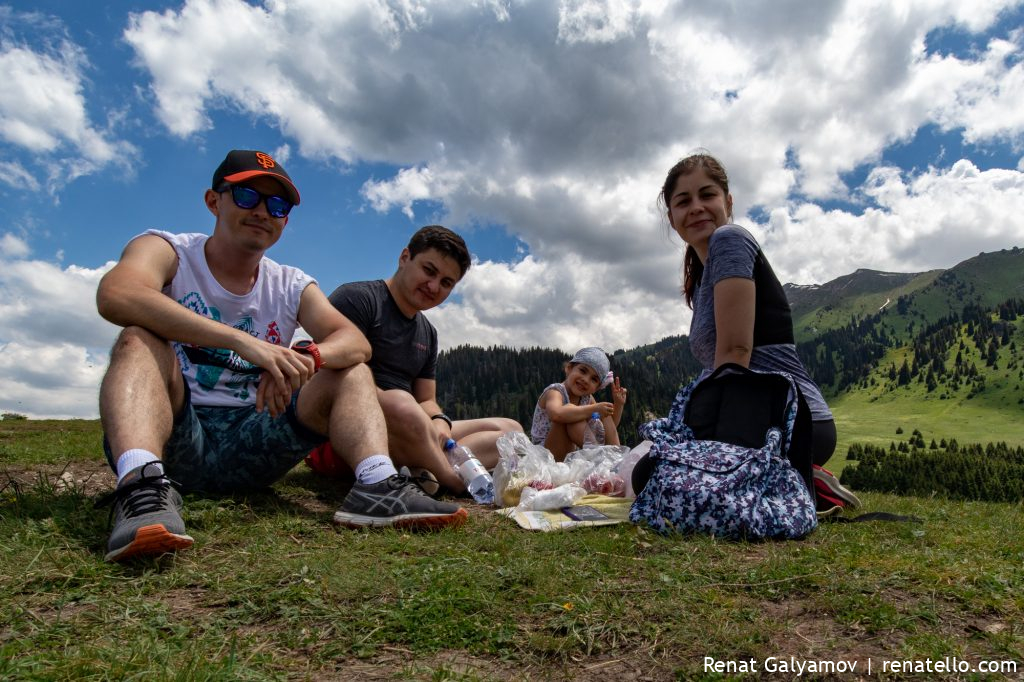 Perfect place for lunch.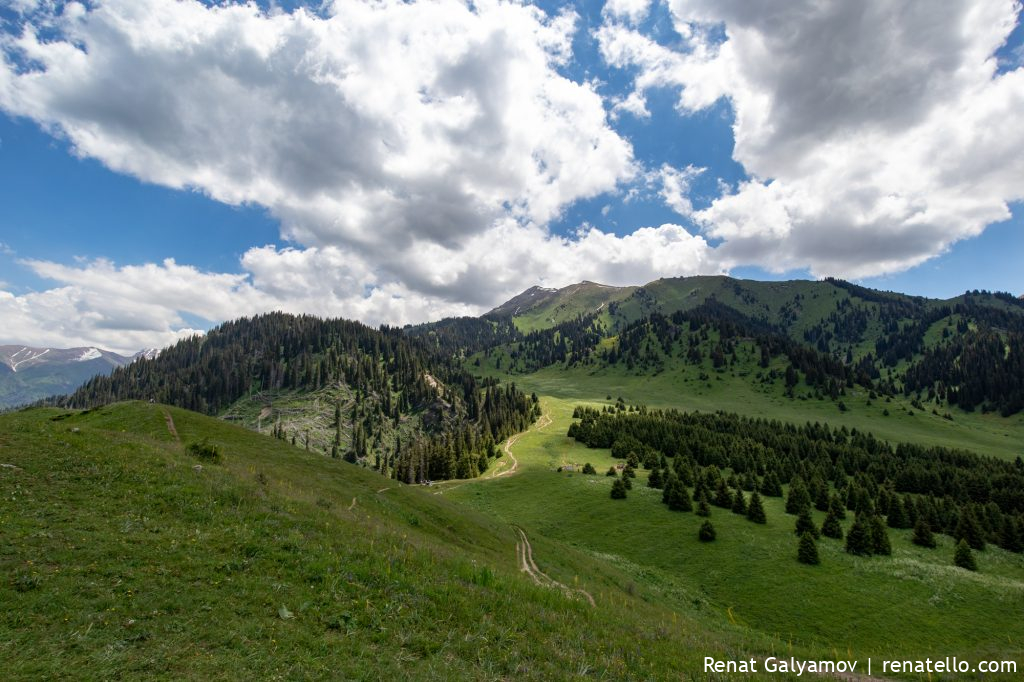 Kok-Zhailau is just stunning.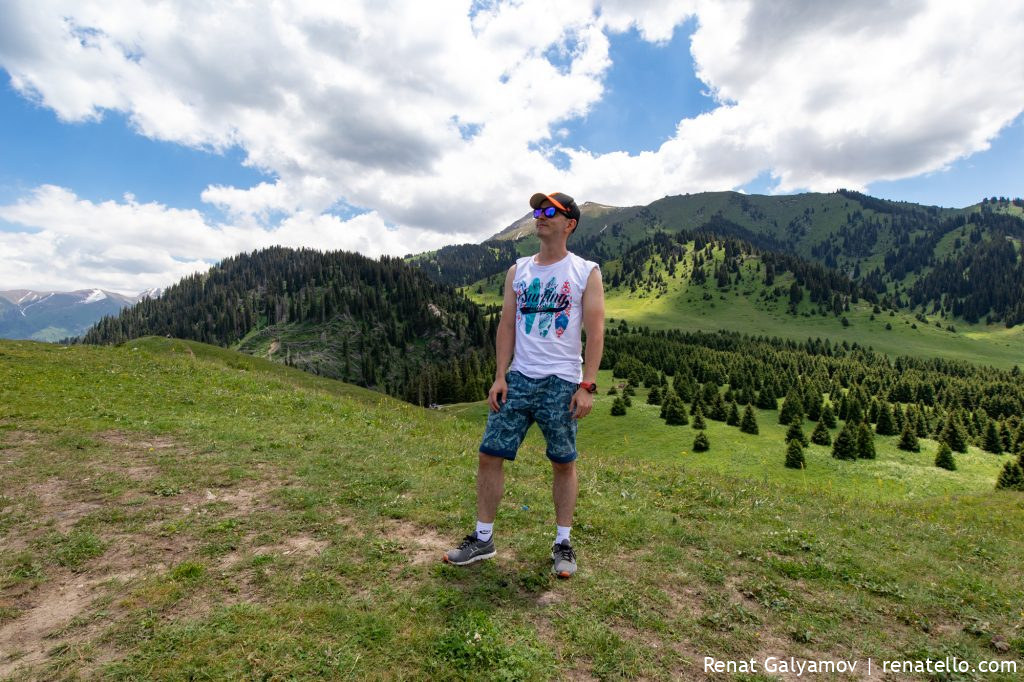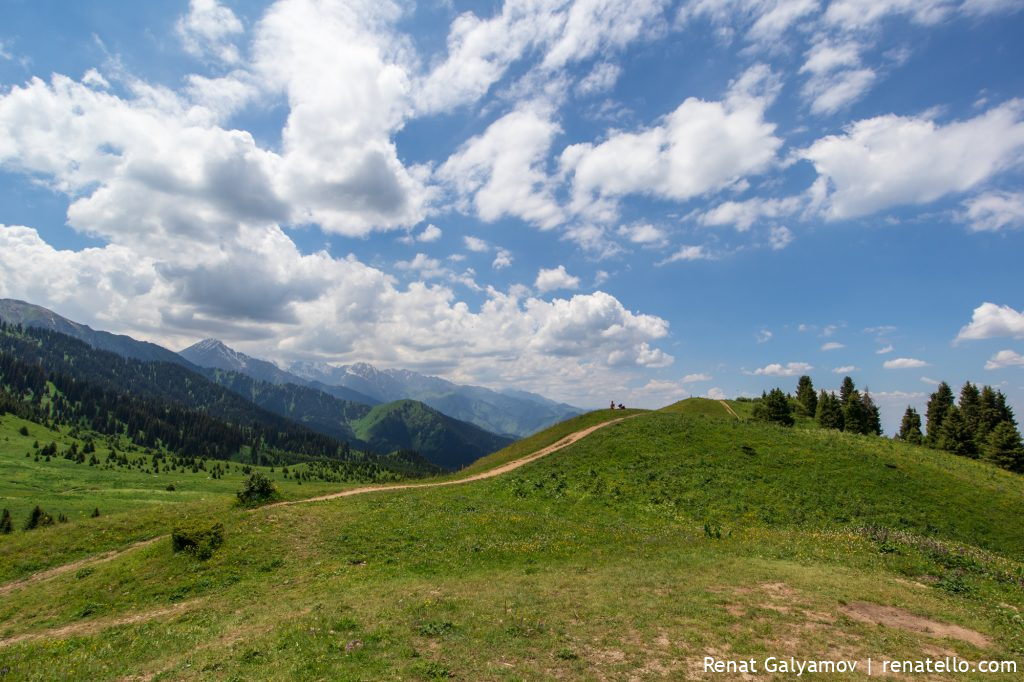 If you follow this path you'll get to the Big Almaty gorge.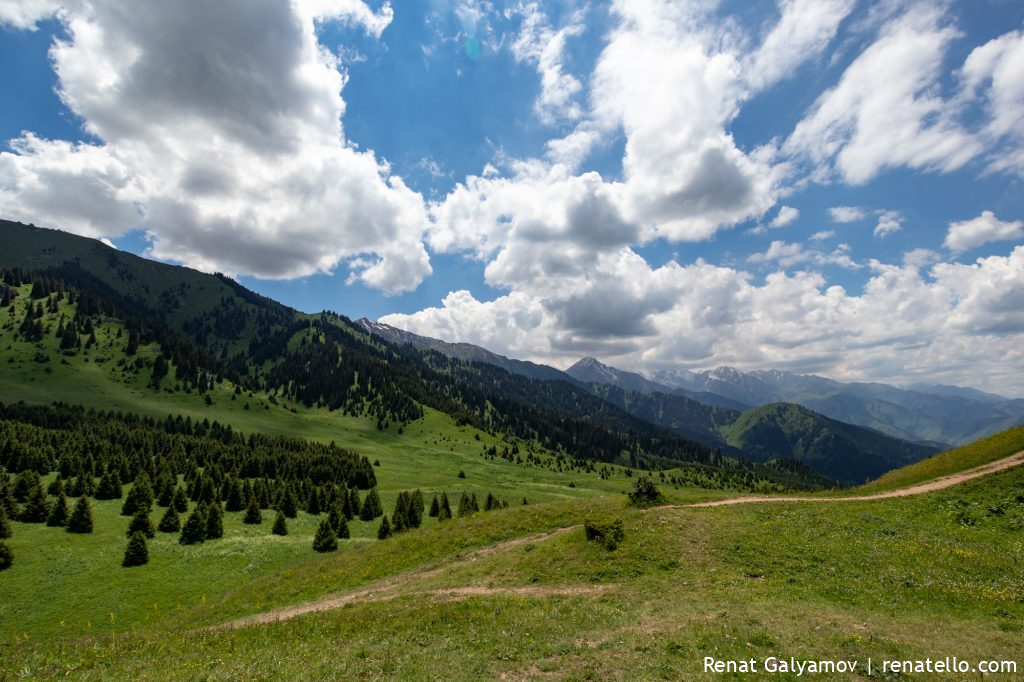 On the photo above you can see a Big Almaty Peak (3680m).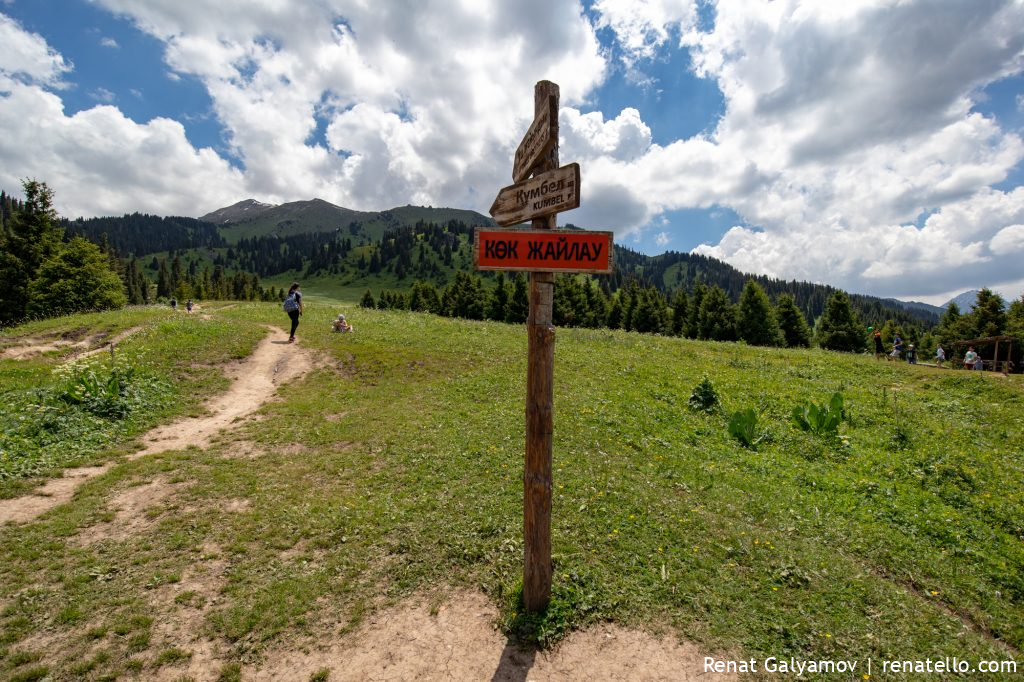 Kok-Zhailau sign.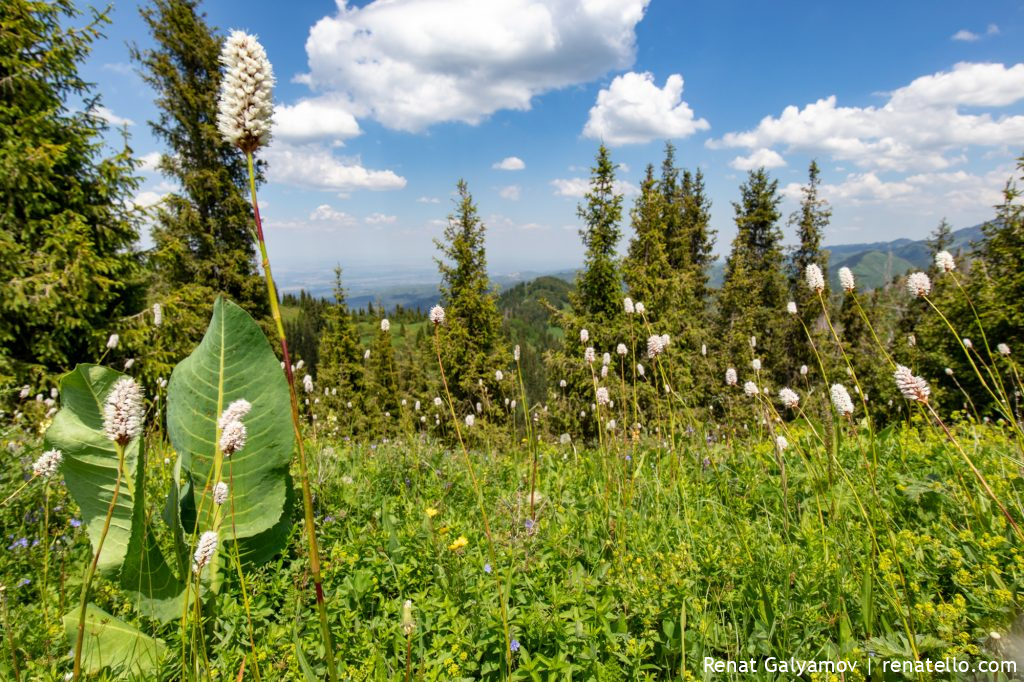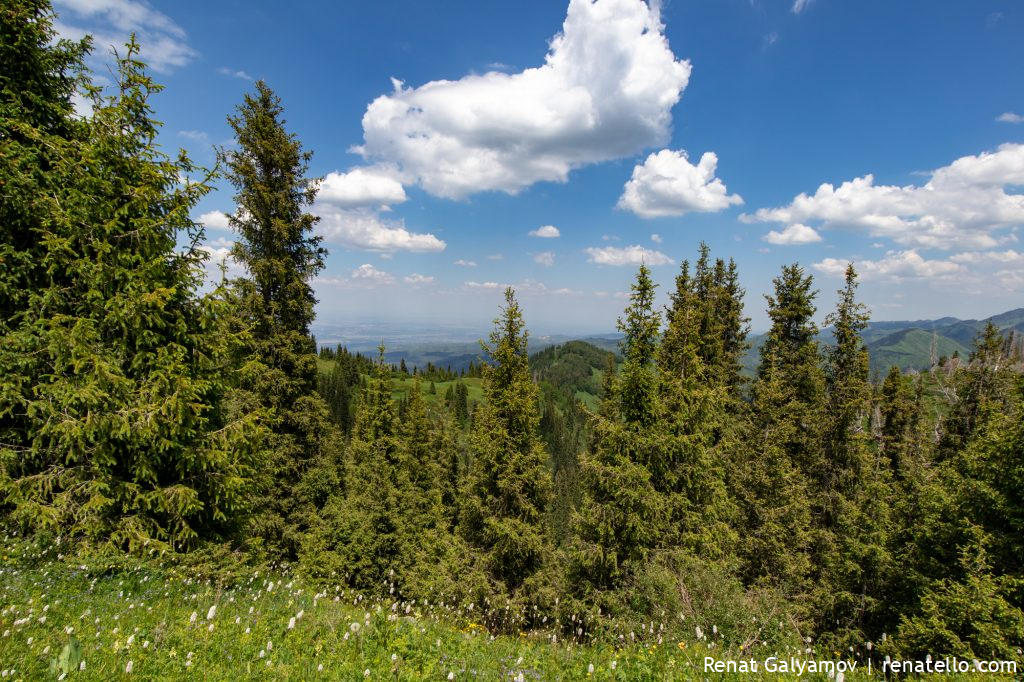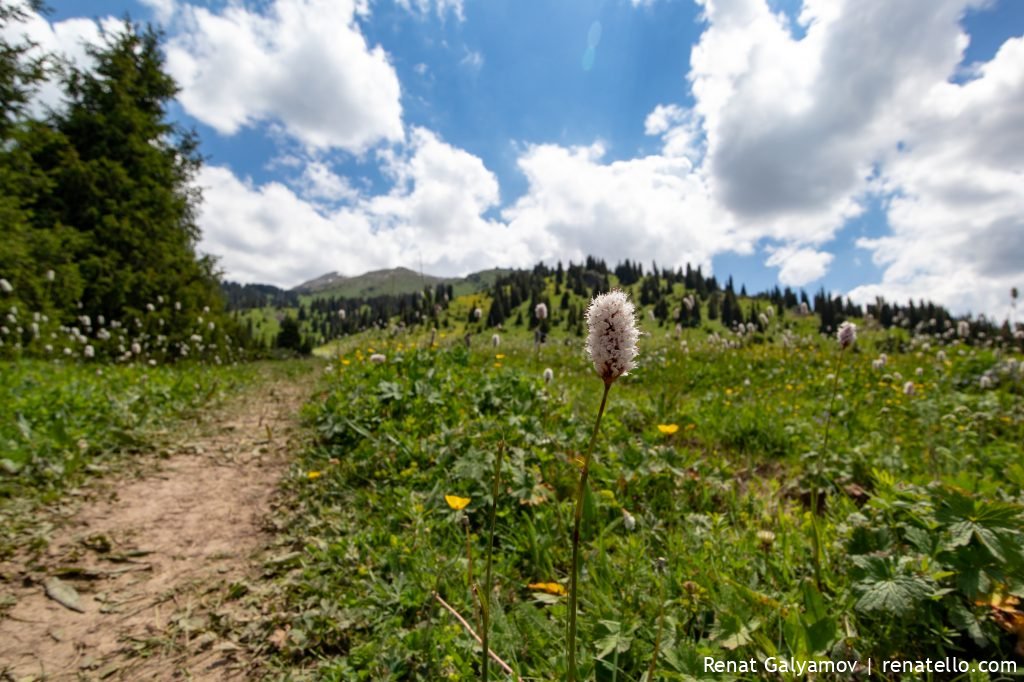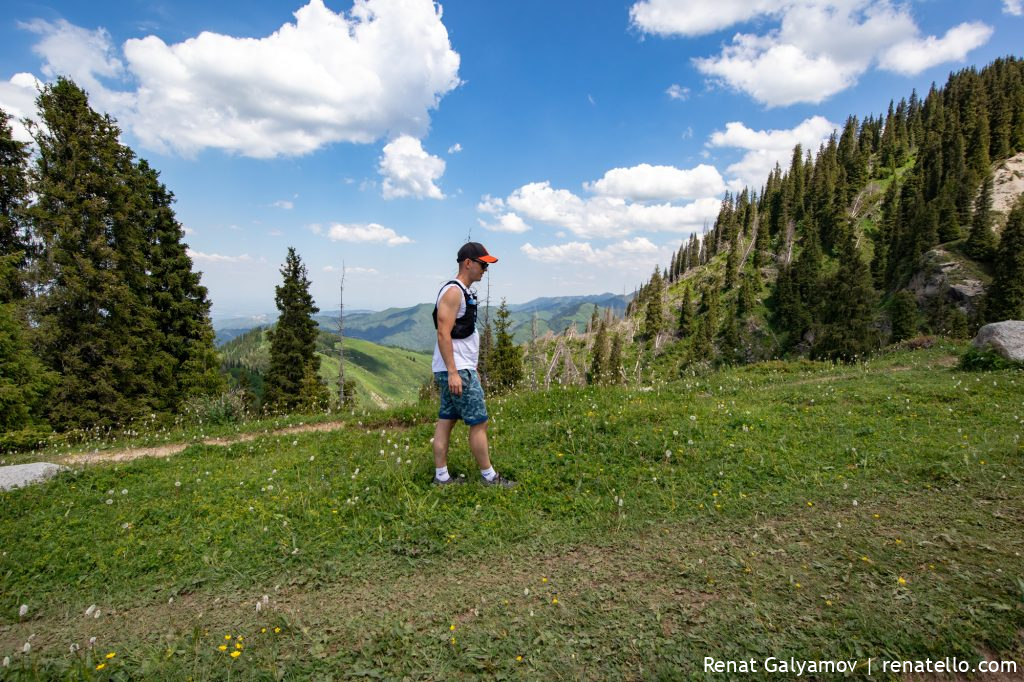 We walked uphill towards the waterfall.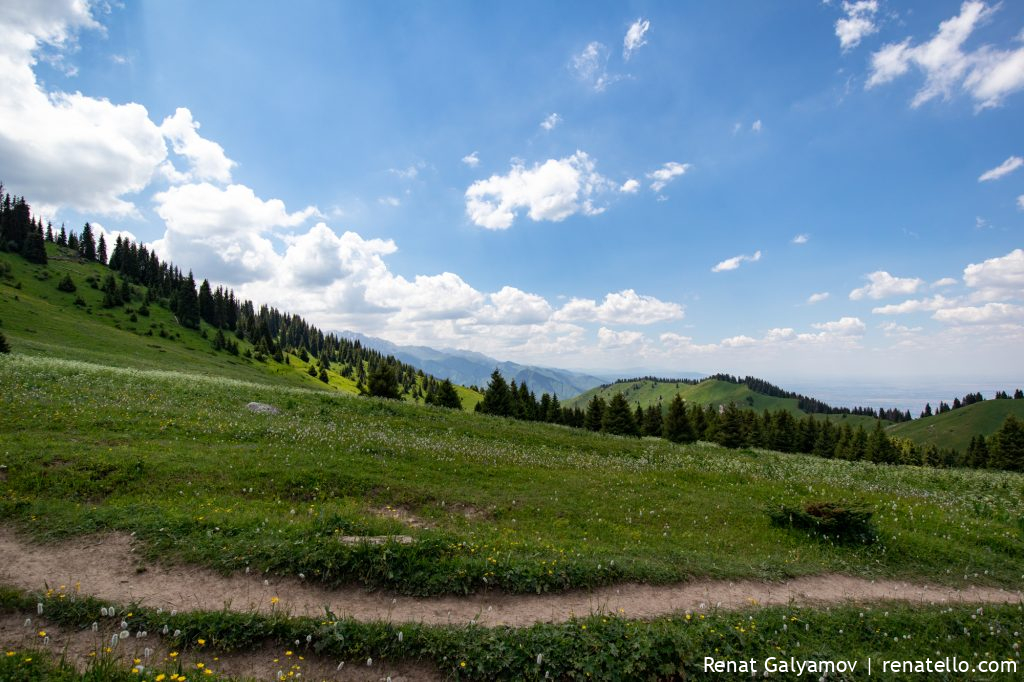 Big Almaty gorge.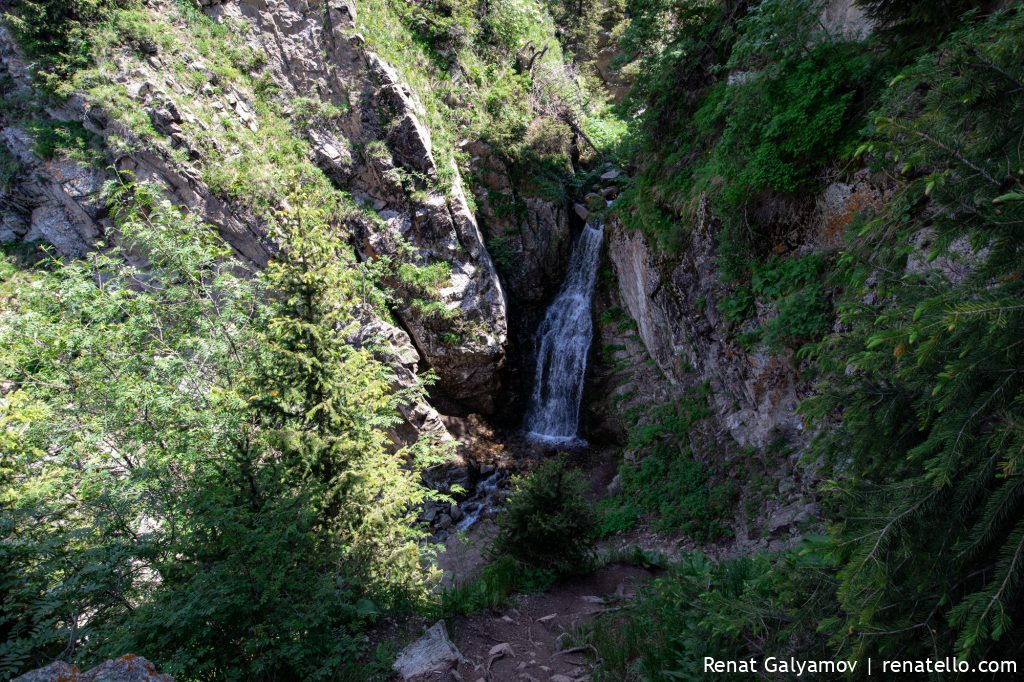 This is the Kok-Zhailau waterfall. In fact, there are multiple waterfalls there. Let me show you another one.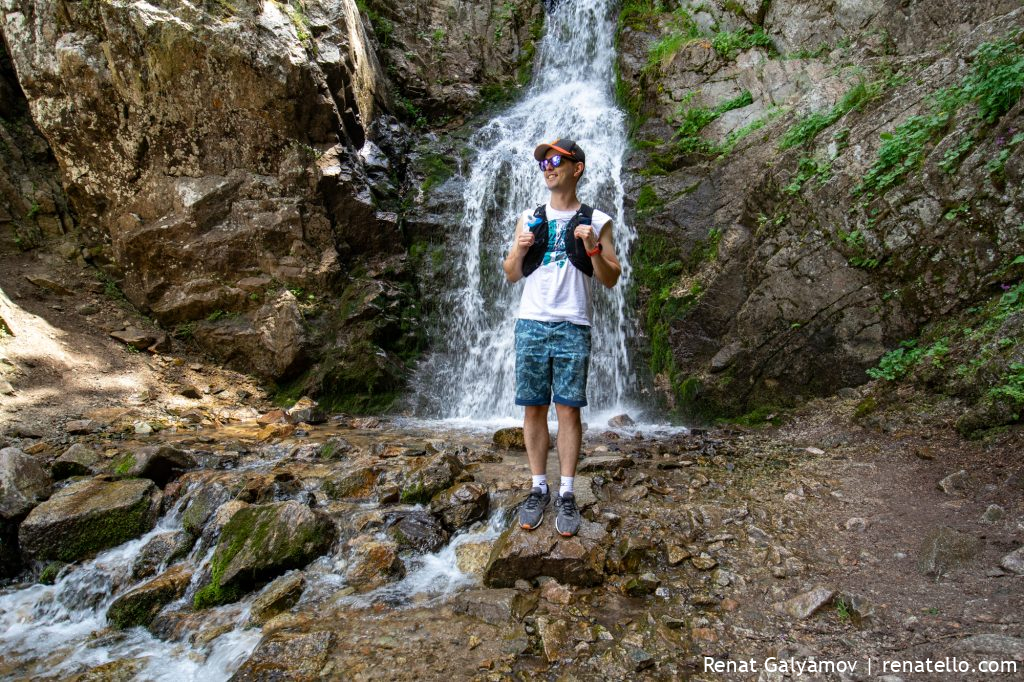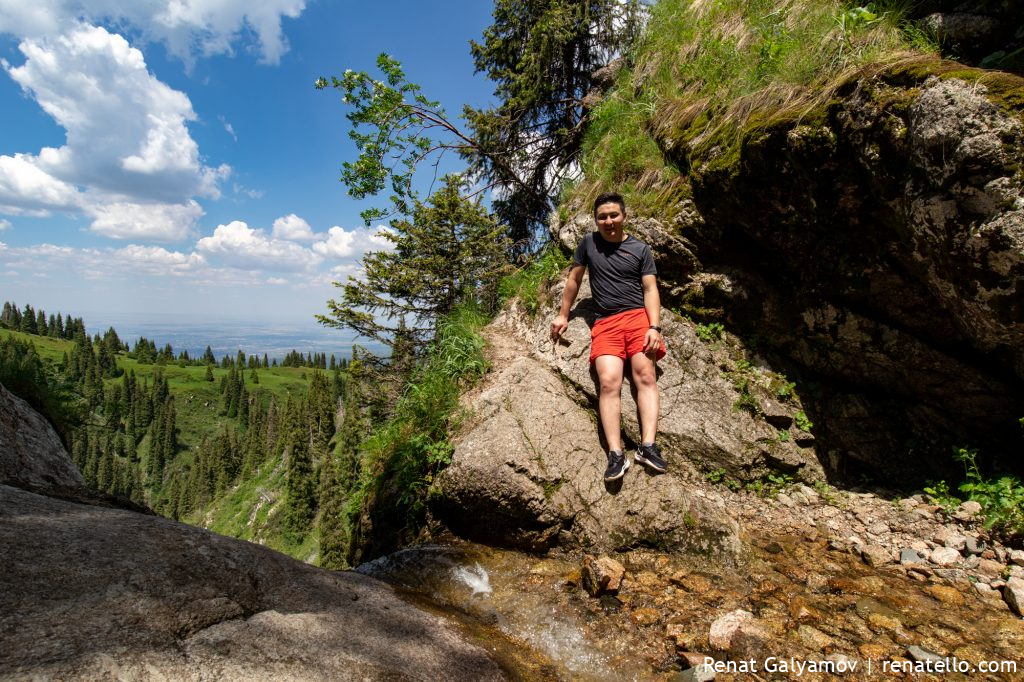 Ruslan is just happy to be here.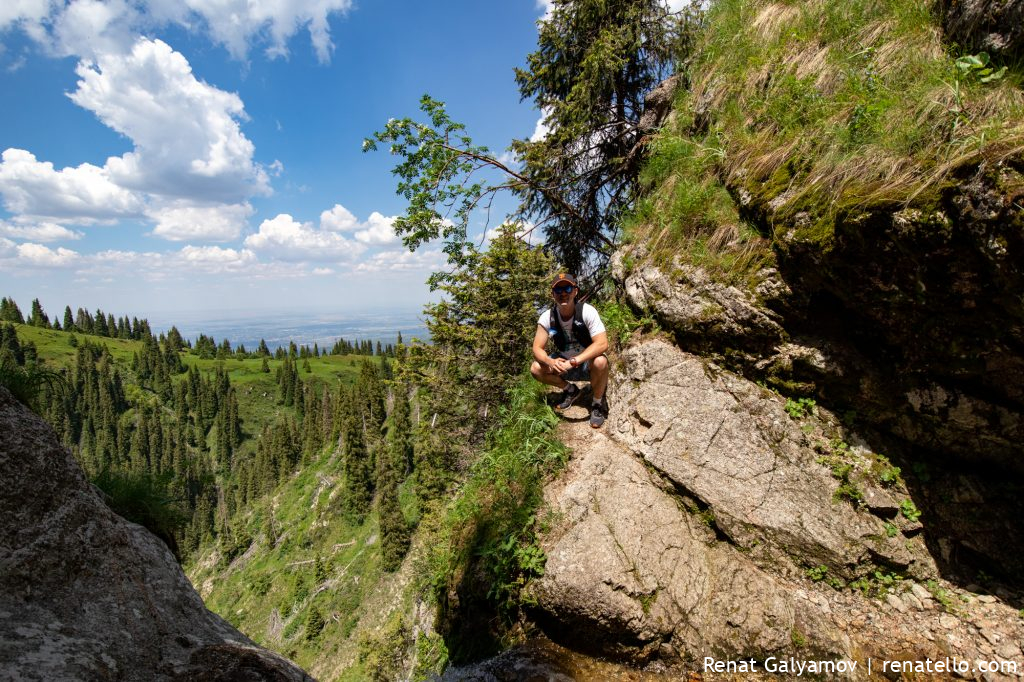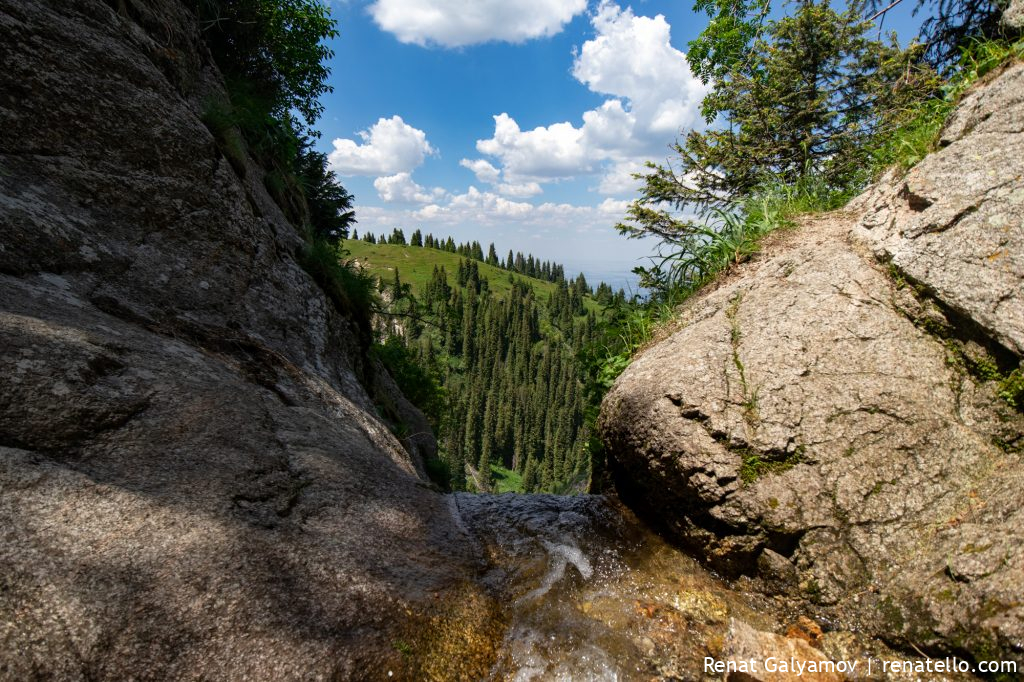 This is the second waterfall. Just watch the vlog to see how we climbed down to see it.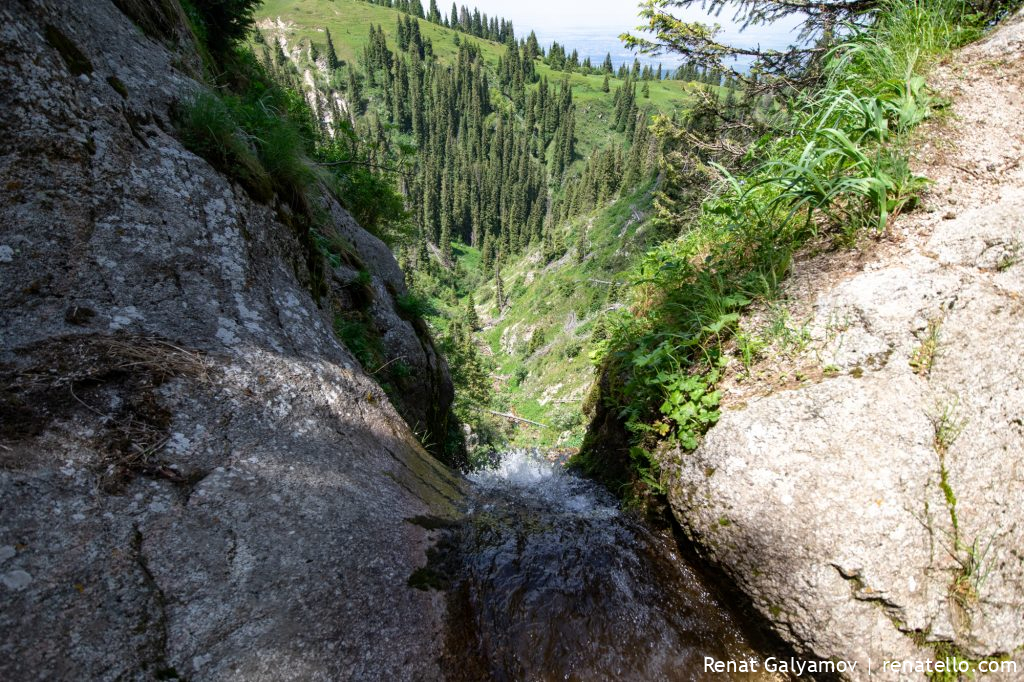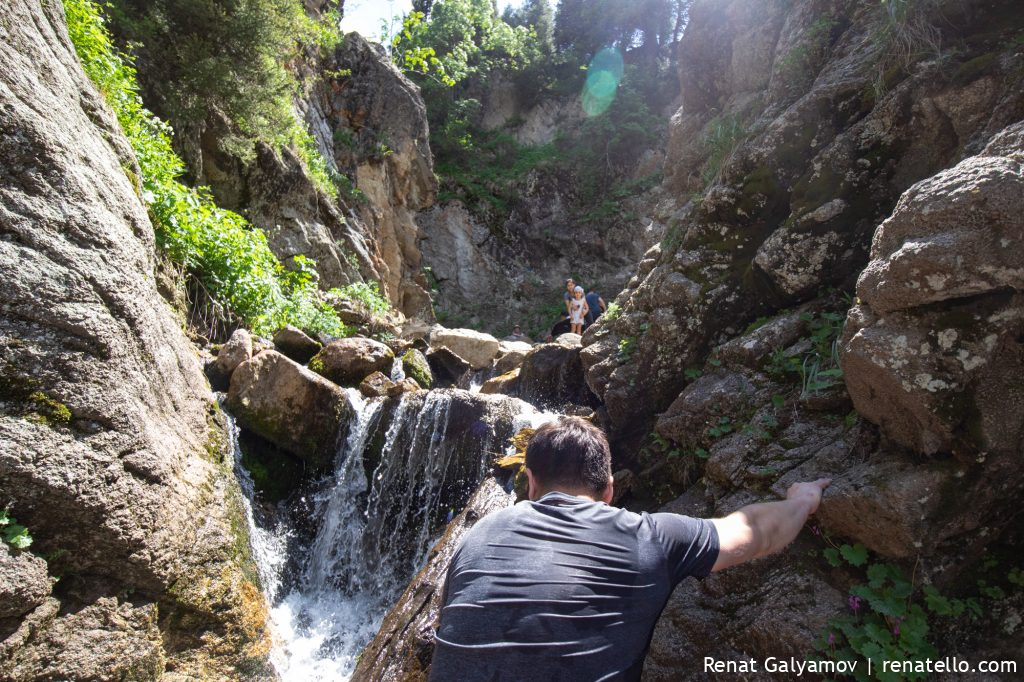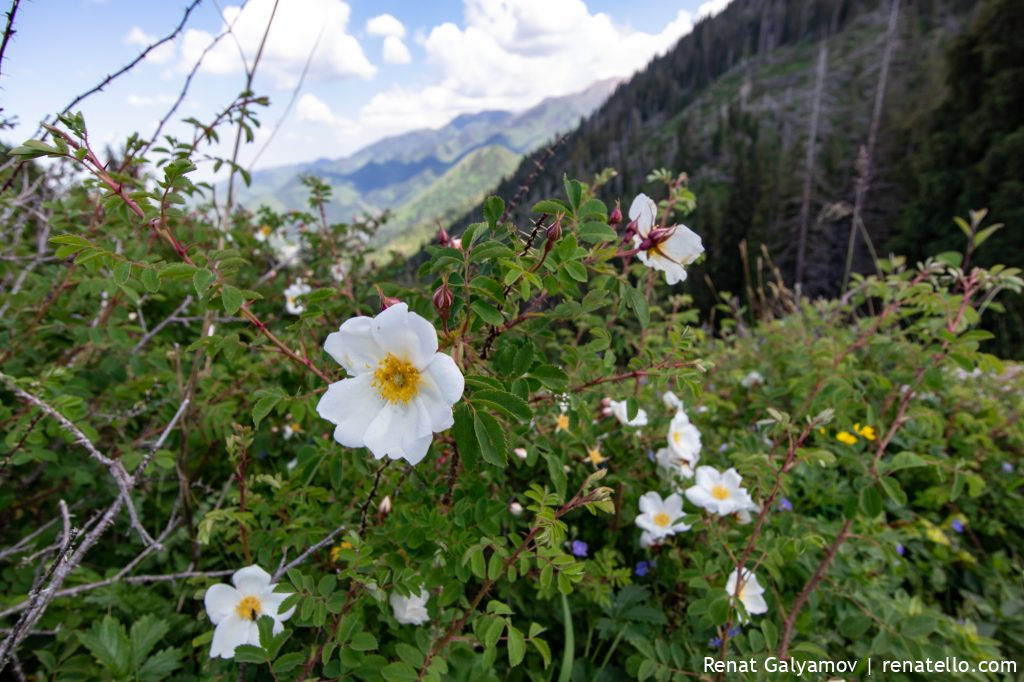 Rosehip in the mountains is still blooming.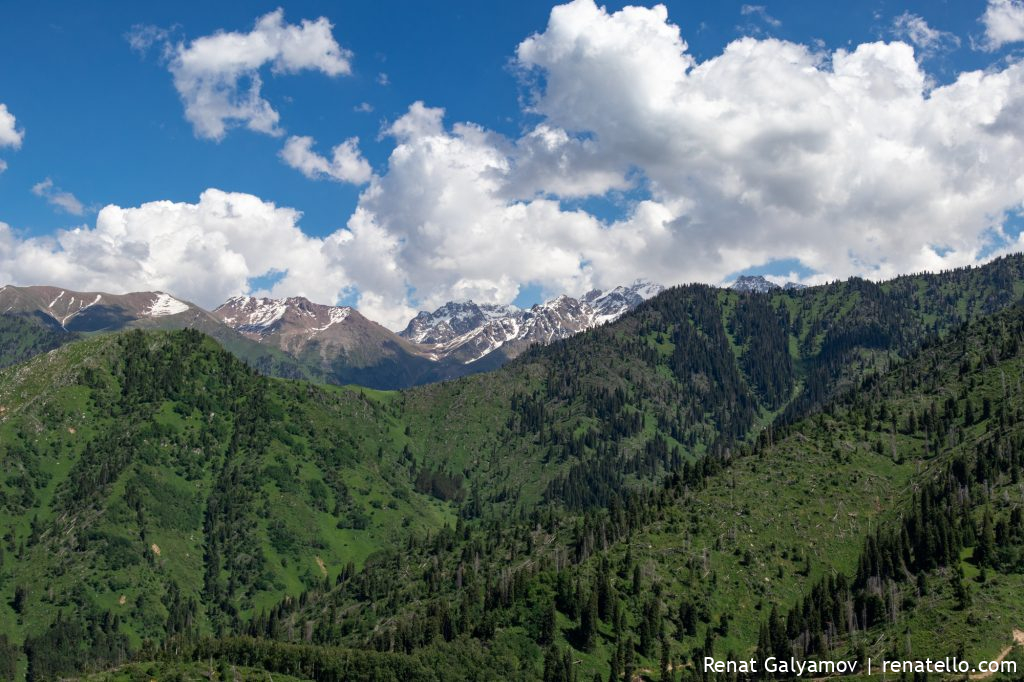 View of Shymbulak and Talgar Pass.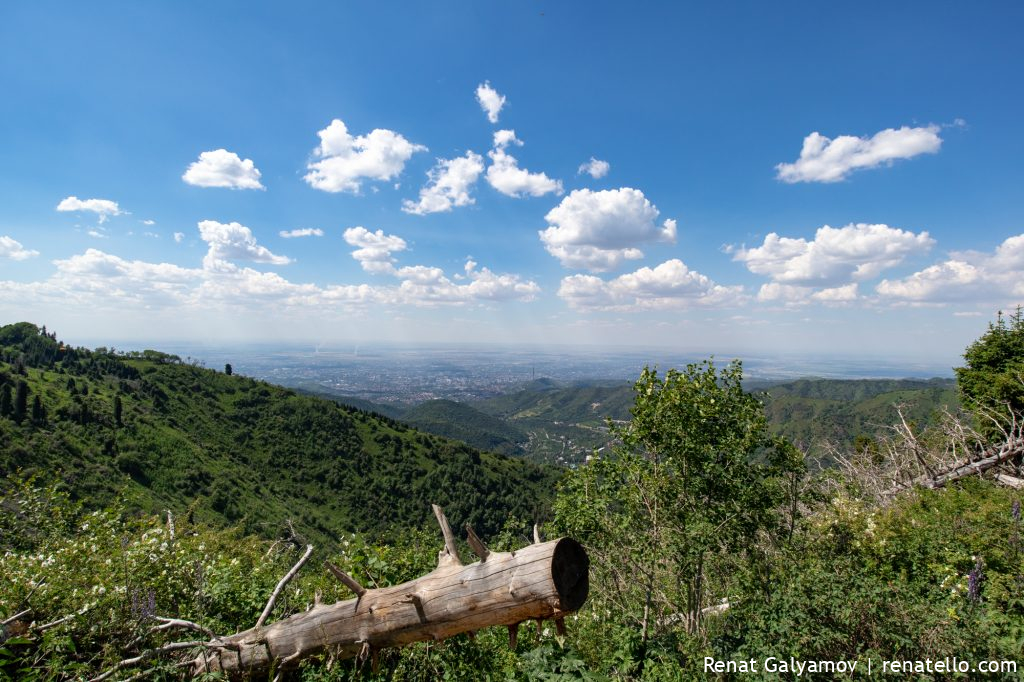 View of Almaty city.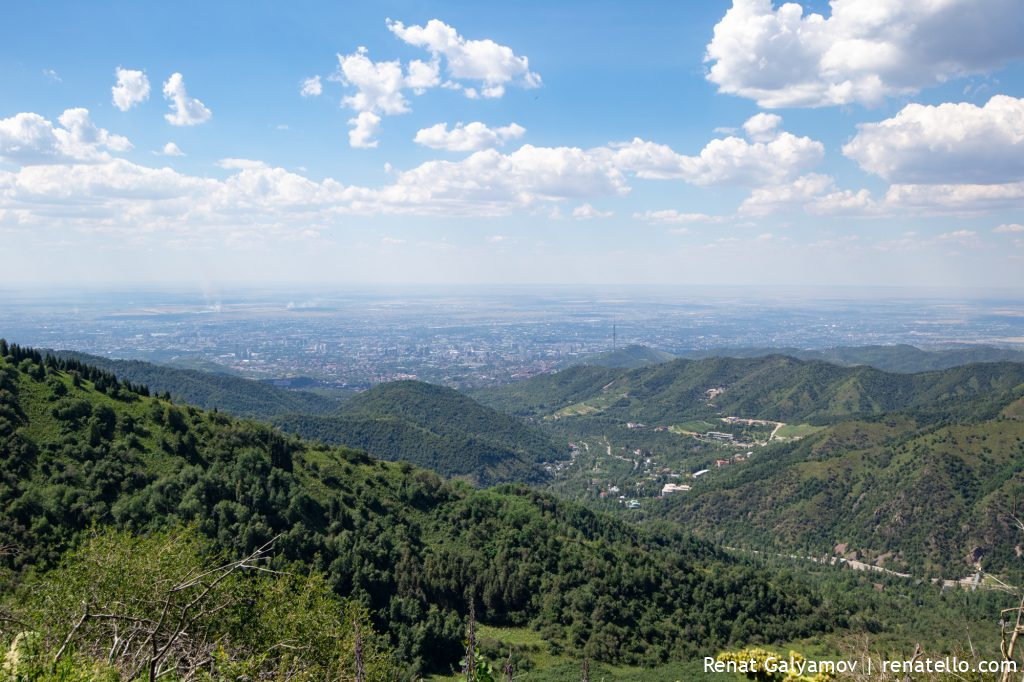 On the photo above, at the very bottom right corner, you can see the former eco post and the climbing rock "Lesnichestvo". We train there from time to time.
Route diagram and GPX
Start: Prosveshenets bus stop, 1536m above sea level.
End: Kok-Zhailau, 2239m.
Travel time – 2 hours 50 minutes at a very easy pace.
Difficulty level: easy.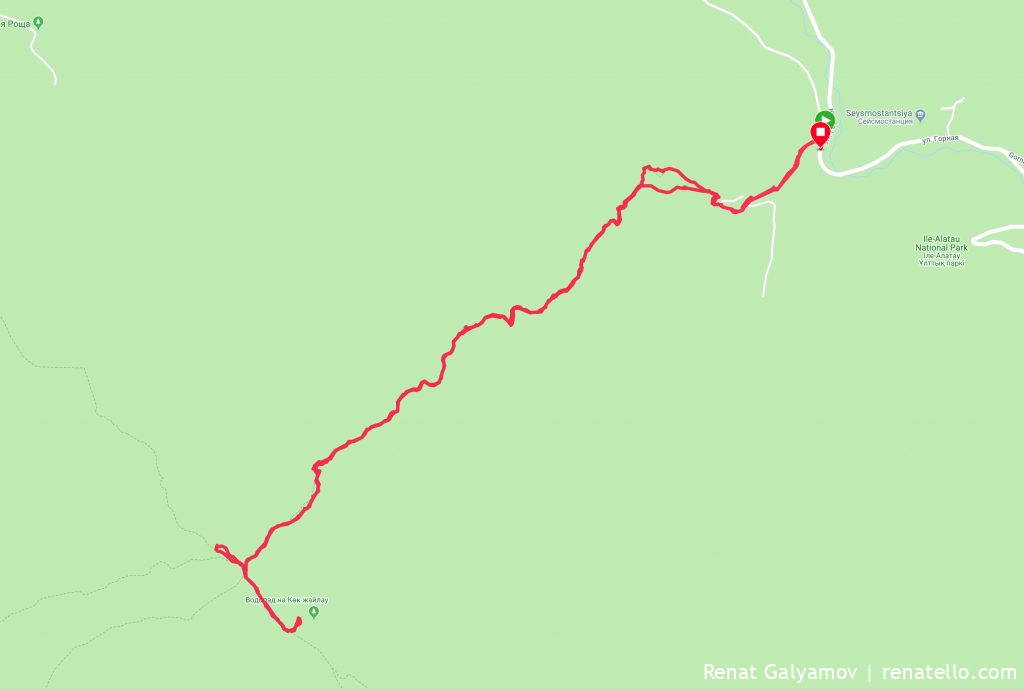 Entertainment/activities
The list of possible activities is large, but you should keep in mind that it's forbidden to burn bonfires in the forest.
The main activities include:
– camping,
– overnight stay in a tent,
– hiking,
– trekking,
– bird watching,
– picking berries and mushrooms,
– waterfall,
– night sky observation,
– vlogging and others.
The tragedy of Kok-Zhailau
Almaty city leadership decided to build a world-class ski resort in the Ile-Alatau National Natural Park, where Kok-Zhailau is located.
The construction of the resort meant cutting down dozens of hectares of relict coniferous forest.
The news quickly gained public resonance. The worlds largest organisations opposed the construction of the resort and deforestation, including NABUm WHS UNESCO, IUCN WCPA and the residents of Almaty.
Construction has stopped, but it is not clear whether it will continue or not.
The following hashtags are actively used on social networks to support Kok-Zhailau:
– #SaveKokZhailau
– #SaveKokZhailyau
– #SaveKokJailau
– #SaveKZh
Other routes
– Kastek Gorge in Almaty region.
Note: This article was originally published on my other website Zabugorshiki.com (Водопад на Кок-Жайляу: маршрут, фото и видео).
Thank you for your attention. If you liked this post, please subscribe to my newsletter and check other posts in the Travel section e.g. Gorelnik Hot Springs (Горячий источник Горельник) or Kastek Gorge.
Cheers,
Renat Galyamov
PS: want to share this with your friends?
👉renatello.com/kok-zhailau